A practical step-by-step guide for selling produce to chefs and restaurant buyers
---
When starting out selling produce from your market garden or smallholding, one of your most profitable customer groups will be restaurants (and other food services businesses).
But how should you go about successfully selling produce to restaurants?
Let's begin by putting first things first…
Restaurants are businesses.
They survive by profitably delivering quality of service and product to their customers.
Anything that slightly threatens their mission, is unlikely to be tolerated, or afforded space.
Their needs and requirements are very different from consumers in many ways:
strict service level expectations,
set payment policies,
high quality demands,
frequency of demand…etc.
Managing this type of business-to-business relationship successfully requires a sound strategic approach and keen professional handling.
Selling directly to any business has it's principles rooted in classic business-to-business (b2b) marketing.
To succeed in making this type of venture profitable, you will need to gain some understanding of the dynamics involved.
Your first step toward success in selling to restaurants will be to set up your venture for selling produce from home as a business and not a hobby.
Getting serious about business is the first step to engaging fruitfully with with other local businesses, like restaurants.
As one chef said: "We are in the yellow pages; the farmers are not, so it is up to them to contact us." – University of California, Small Farm Program
Do advance, you will need to array your trading venture professionally to match the expectations of your business-savvy clients.
Top 10 considerations to make when setting up as a professional produce wholesaler:
Identity…

your business identity will be the fundamental element responsible for how the marketplace will recognise and respond to your enterprise.
Choose well, exercising attention to detail – settling upon an identity which instantly conveys your intended value proposition.

Your story…

articulate your background and your mission illustratively.
Give customers at first glance an opportunity to connect with your story and develop an interest in both you & your business.
At a time where businesses are communicating along very sociable lines – a revealing brand story might just be all you need to open the right doors.

Establish a plan…

invest in the time to set up a solid agricultural business plan.
Businesses often won't want to welcome new supplier relationships unless they see that you are likely to be around for a while.
Many people come and go with unrealised business ideas. What makes you any different?
Write it up and make sure you're in it to win it as they say.

Have collateral…

many business owners, or commercial decision makers still like to evaluate their options on good ol' paper.
What?! I hear you say, even in this digital age of iPhones and Ubers? Yes.
Whilst many don't mind taking a glance on screen to weigh things up early on, the traditional methods of deliberation are still highly favoured by many when it comes to making the cut.

Know your customers…

KYC is an business development principle of old which doesn't seem like going away anywhere soon. Your reason for being as a business is to serve your customers profitably.
This is 'needs' dependent.
Knowing what the need, when, where, how, which, and why are critical points to maintaining a fruitful customer relationship.

Know your limits…

honesty about your constraints will prevent you from disappointing customers.
Communicating them from 1st contact set realistic expectations from the beginning which avoids misleading.
The value proposition of a supplier of produce is heavily impacted by constraints and limitations – you don't want to leave this detail out, lest you waste precious time.

Quality control…

maintaining consistent levels of quality control is vital to sustaining your produce selling business.
There are so many variables involved in growing commercial standard produce.
'Quality' being the primary benefit received by food services – you're long term survival in this will be highly dependent upon delivering results, every time.

Make contingencies ('what if?')…

things can always go wrong.
Plan in detail some achievable 'what if…' escape routes to ensure continuity for your customers. Reputational risk is high in local marketplaces.
Don't risk your future years of profitable trade for the sake of some elementary business oversights.

Delivering the goods…

scheduling for delivery is key.
Getting the goods to the customer and informing them when to expect arrival is a critical building block to get right for long term success.
Making it easy for the client to see ahead and to make adjustments adds a healthy measure of confidence to the relationship mix.

Upfront about money…

your business is only going to work if you make a profit. It must pay you back.
The more upfront you are about it – both with yourself and customers – the more foresight and accuracy you'll inject into your cash flow management.
The better your handling of expenses and payments, the more financial buoyancy and reliable you will be.
A Guide To Selling Produce To Food Service Providers (…restaurant chefs & managers, caterers, delicatessens, cafes etc.)
The following guide is a highly detailed approach to selling your produce to decision makers within food services businesses, like restaurants.
We hope the summary shared will provide you with well informed direction for making a profitable wholesale produce business:
[A] Marketing outline for selling produce to restaurants
Marketing your produce to restaurants can be demoralising without a strategy. The following outline is based on the real life experiences of professionals who believe in giving back and hence have lent us all a hand. Enjoy…

Identify buyers…

whilst caterers, cafes, delis, corporate kitchens, chefs are all buyers, their needs can be vastly different. Not just for product requirement, but also for service level expectation.
Build a comprehensive, yet segmented database of known prospects within your marketplace.
Research the a detailed needs analysis for each group of prospect.

Set the relationship…

get prepared for making a solid first impression.
The relationship from the off will be strengthened by fulfilling expectations. Contrarily it will be weakened by inconsistencies.
Know what will increase the confidence of your counterpart in continuing the dialogue and placing their first order.

Sales sheets…

make it easy for your buyer to make buying decisions.
Useful, time-saving, skim read material enables them to reach for the important data as and when they want it.
Highlight the necessary key facts and figures to help draw the readers eye to the most influential markers.

Communicate…

keeping close ongoing contact with your buyers keeps you top of mind.
Timely reminders makes ordering a simple reflex, almost requiring no thought, when need arises.
Give options for preferred mode of communication: email, phone, sms etc.

Qualify needs…

thoroughly investigate the needs of each customer.
Take time to drill deep with exploratory open ended questions to unearth a rich source of requirement.
Record and have handy your findings – as these will be your substrate for upping your value proposition.

Reliable…

engineer your business operations to support consistent service levels.
Ensure your business is set to delivery what you set out to.
Keep up-to-date and accurate copy of your collateral. Revising as needed.

Give notice on any gaps…

whenever you have foresight of any production/availability gaps – forewarn customers.
Establish communications protocols – automated where possible to save on time and avoid errors.
Data integrity and systems management is key to having a joined up approach to service.

Cooperate with other producers…

strength can be gained in this business by cooperating with others.
There are significant efficiencies to be gained all round by producers pooling resources in marketing to wholesale buyers.
Even piggy backing on established delivery routes might leverage operational and profit benefits.

Recipes & storage…

teaching your buyers how they ought to treat their produce is a good way of adding value.
This kind of conversation might just open up other topics of discussion which might draw out further opportunity to give benefit.
Publish unique recipes involving your produce showing consideration for your buyers responsibility to deliver quality to their customers.

Who wants "seconds"?!…

this is a very needful part of your marketing strategy – finding takers for your less than ideal 'appearing' produce.
Commonly known as seconds – not having an outlet to distribute these, can diminish your profit outlook.
Consider promotion of uses of seconds in preparations and recipes where processing of produce is required.

Identify specialty items…

quantify and qualify demand for unusual species or categories of produce.
Discover is the demand is already being met by other suppliers or producers.
Consider a niche to position your business and trial product adoption.

Set price comparison with readily available wholesale prices…

know your prices.
Lay your hand on industry benchmark prices.
Know where your offering will fit in – ensuring that your don't compromise profit.
[B] Interview with an event chef on cost management & local produce
An interview with experienced head chef and event caterer, John Buskie, revealed some valuable insights to what makes his role tick.
A good read for any budding market gardener, farmer or grower!
"What makes your catering business an excellent choice for private and corporate customers alike in Glasgow?"

"We exclusively use Scottish produce, all locally sourced ingredients from local suppliers. In my thinking it's important that neighbouring businesses support one another – it encourages survival of the small business.

I'd like to add that my menu is also traditionally Scottish."

"How do you demonstrate value to prospective customers whilst they are still deciding who to commission?"

"One thing we are settled on in negotiation though is that we won't budge on price. Our margin enables us to deliver excellently to the benefit of our customer and consistently so.

If it doesn't profit At Ease Catering, then it doesn't profit our customers either – cheaper is not always good value." – Marquee Hire HQ
What can we learn as 'market gardeners'/'growers' from this revealing interview of a head chef?
Here are a few take home pointers…
Exclusive use of local produce, sourced by local suppliers.
Emphasis on supporting local businesses thriving.
Traditional menu known to customers selectively showcases local produce only.
Doesn't compromise on price – is very much value focused and so is his customers.
The points above extracted from the interview allude to factors which might be in your favour for selling to chefs.
In summary, it could be reasonable to deduce from John Buskie's responses that some chefs: (1) exclusively source local produce, (2) are committed to support local businesses, (3) dedicate whole menus to locally available produce and (4) are value conscious rather than price sensitive.
[C] Conducting market research for selling produce to restaurants

These following tips are recommended as hints for researching the needs of your market in advance of selling produce:
Read hyperlocal food-related blogs: you'll find that your local area will benefit from a number of local food related blogs written by consumers and professionals alike. These are fruitful fields of interaction which offer great networking potential for your produce business.
Join local organisations supporting local producers: grower cooperatives and other such producer clubs are good sources of market research information. Pooling together experiences and expertise can go a long way to equipping your start-up with a profitable direction.
Follow local Facebook foodie groups: these groups are highly trafficked knowledge exchanges where locals trade tips and hints on food related topics. A great place to monitor demand and trends of food consumption and usage by chefs. Introduce yourself and get connected.
Chef interviews: much like our previously quoted interview with head chef, John Buskie, these insightful dialogues shed valuable light on what your customers typically will appreciate from businesses like yours.
Web searches: with the use of Google operators to narrow down the results produced to include only the most relevant, web searches can draw up useful gems to offer you strategic advantage.
[D] Day in the life of a restaurant manager

The following is an excerpt from an interview with Beth Casey, Restaurant Manager of Bubba's Diner in San Anselmo, California:
What are your day-to-day responsibilities as a restaurant owner and manager?

Ordering produce, meat, fish, and dry good once a week
Personnel, making sure that everyone is happy and working well
Overseeing the cleanliness of the restaurant
Checking wine and beer order
Rotation of food
Making sure all equipment is working properly
Chattin' it up with the customers
Most important – "Being there"

What are some of the challenges of being a restaurant owner and manager?

The challenge of being a restaurant owner and manager is to always try to make your business better. Being the best you can. Re-evaluate, create, be different, have a niche.
As quoted by this restaurant manager in the number 1 slot of daily duties is "…ordering produce".
This places you and your offering right up with there with your customer's priorities.
They are also a desire to improve the running of the business to increase profit and introduce new efficiencies.
These two subjects compliment one another and offer opportunity for your wholesale produce supply service to score some good points with restaurants.
Consider your selling of produce as being leverage for a restaurant to occupy and become established within it's chosen niche.
A strategic masterpiece if performed well.
[E] How to prepare to sell produce to restaurants and other food services providers

Understanding the restaurant's menu and typical hours of work: do your homework to know what produce there is current demand for by examining the menus. Make note of opening hours and qualify also the working schedule of your kitchen staff and chef. Avoid clashing with their peak window.
Qualify and investigate: produce a checklist of questions to ask at every meeting with a 1st time customer. This keeps your line of enquiry consistent and should unearth the important underlying gems time and time.
Articulate logistical procedures and service levels: the cement or glue which keeps the whole relationship  together will be how reliably you can deliver on what you say. Plan and plot what you are able to do – within your means – and set the right expectations.
Consider including the costs of samples: providing samples of your produce for trial by your prospective buyers, is a proven method of giving assurance of quality. Sure, it comes at a cost to you. But in the long run the profitability of this from increase sales conversions could be well worth it.
Set your communications loops for giving notice on availability: running your produce business will be a demanding routine. As such the potential for falling behind or error will be significant. Timeliness within business to business interactions cannot be compromised, for the sake of risk and loss as consequence. Chefs won't tolerate it. Their jobs are pressured enough. Set firm communications circuits – using leading methods and technologies where feasible.
Take advantage of reminders & automation: programmed messaging will relieve you of having to be on the button for everyone all at once. There are some very cost effective automated messaging solutions available to small businesses like yours out there. Do you homework & see what would work for you. Avoid the embarrassment of missing deadlines.
Offer standing orders for staples: staples are a regular requirement. Set solid foundations for your buyer relationships, but setting routine standing order arrangements for those items of produce they routinely use. The speciality items which are more unusually requested are then considered add-ons to the norm. A good strategy of longevity and organic account growth.
Establish easy ordering systems: each buyer will have their preference for how they would ideally make payment with you. Ensure to make efforts to offer a comprehensive range of transaction options. Try not to alienate potential new business interest at the last hurdle.
Incorporate contingency for key products: there are always unforeseeable issues that occur in business. These can at times irreparably hinder our ability to deliver on time. In such cases where availability of produce is impacted, you'll not want to pass on uncertainty and disappointment to your buyer.
Make buyer visits convenient: buyer visits are excellent means of building the relationship and taking things further. These one-to-one sessions are great opportunity for exploratory discussion. Restaurants are busy environments at the quietest of times. Plan visits around the scheduling of your customers for their ease.
Arm your client buyers with your promotional materials: restaurant chefs and managers are increasingly openly promoting the identities of their local suppliers to customers. There is generally a willingness to support other local businesses with granting them exposure at point of service i.e. at the customer table.
[F] Etiquette when selling produce to chefs
Chefs are time management experts.
It's the nature of the business. They are largely responsible for the timeliness aspect of service delivery on the restaurant floor.
When relating to chefs, being conscious of their time constraints and priorities will go a long way to making the relationship a comfortable one.
Here are a top 3 tips to keep your buyer relationships in-sync:
never just turn up without expressly being invited or at a busy time
never take on too much business – it's a sure way to collapse your enterprise
don't underestimate your value proposition – be realistic, your business should sustain itself or otherwise you'll deceive both yourself and your buyers. Don't be ashamed of pricing honestly.
[G] Want to know what 383 expert chefs have to say about buying from local producers?
"The Chefs Collaborative is a national network of more than 1,000 members of the food community who promote sustainable cuisine by celebrating the joys of local, seasonal and artisanal ingredients." – Chef's Collaborative Organisation
As quoted by University of Nebraska-Lincoln, the Chef's Collaborative, a specialist career development focused organisation for chefs in America, performed a survey in 2003.
The survey canvassed the experience and advice of it's professional members – all chefs – for advice on '…approaching food service establishments with locally grown product'.
Here is a quick summary of the findings of the research:
[Paraphrased] Que.1 – What are the most important 'produce' attributes affecting decision to purchase?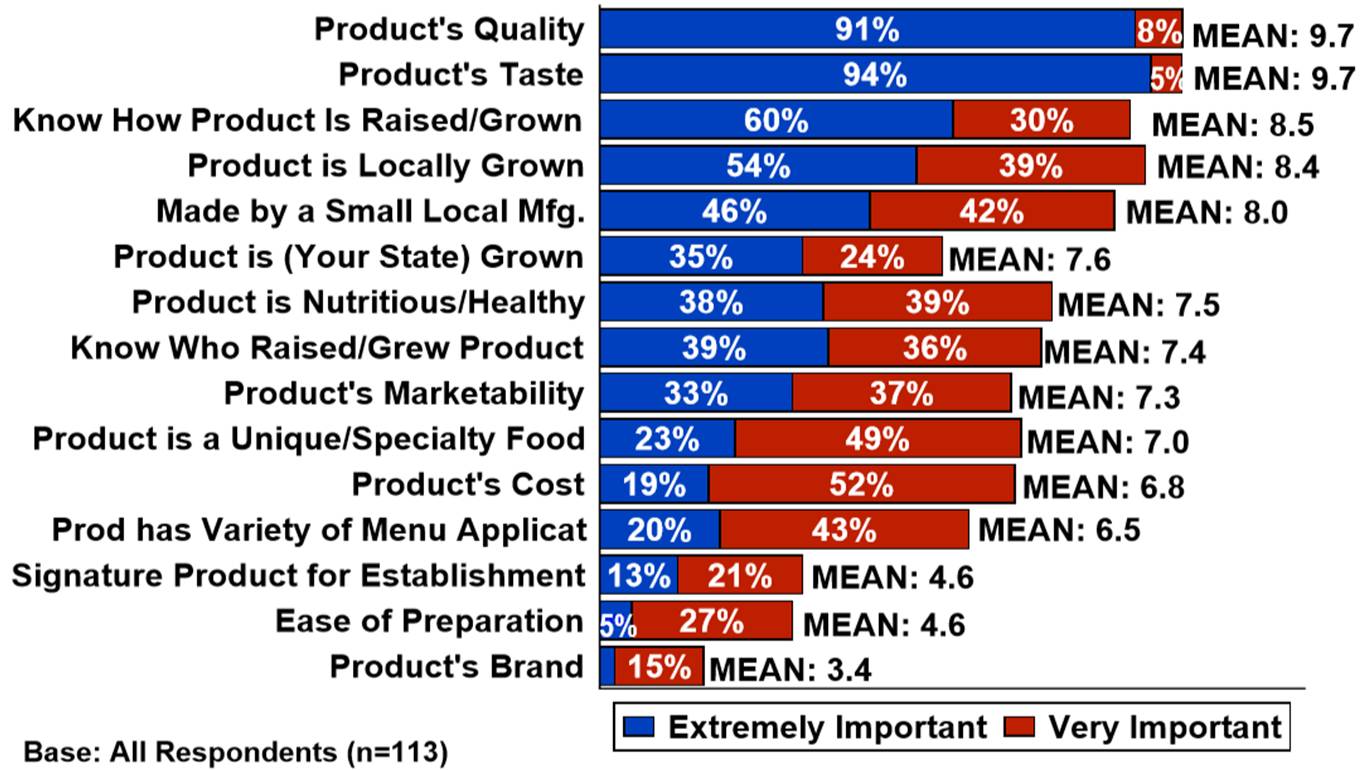 The predominately favoured factors affecting purchase decision of produce were, firstly quality followed by knowledge that a small local producer has cultivated it.
[Paraphrased] Que.2 – What are the most important 'producer' attributes affecting decision to purchase?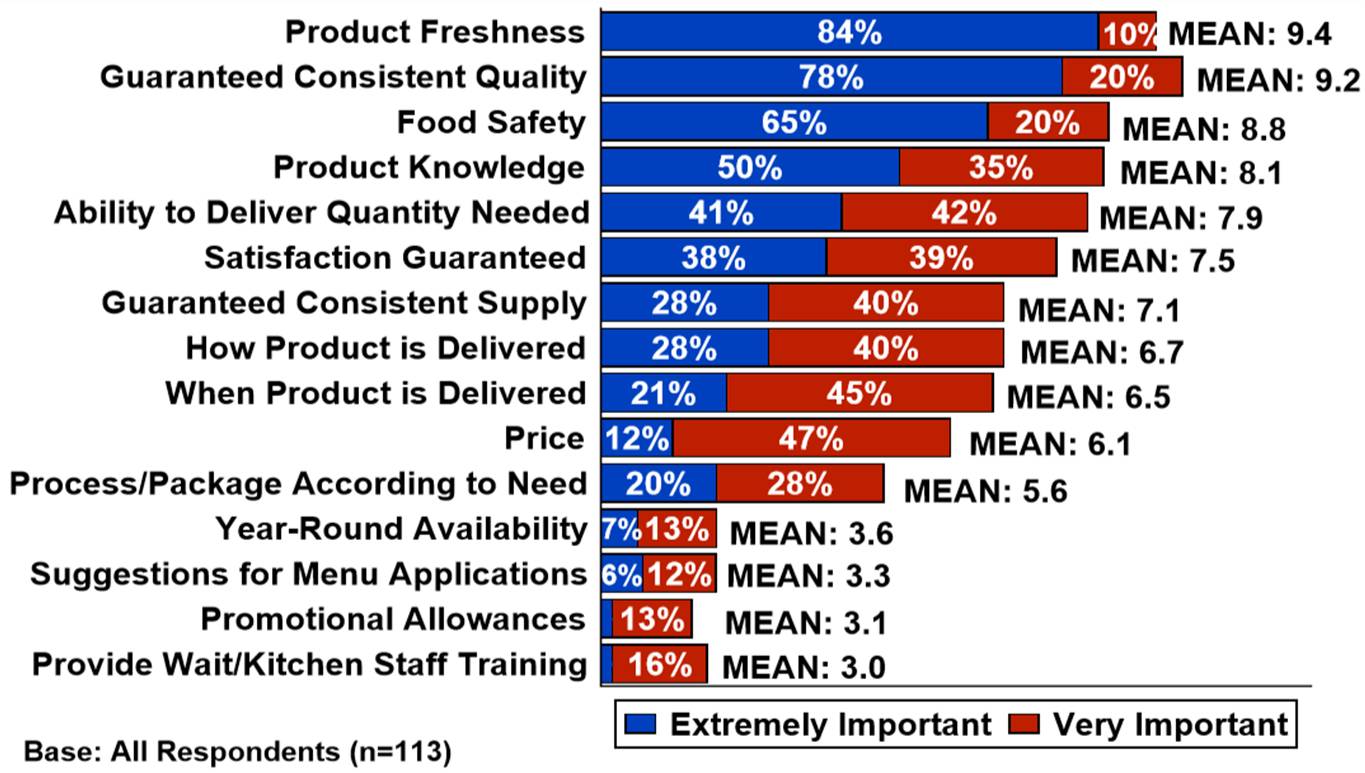 By-enlarge, factors affecting choice of producer also are led by product quality related characteristics, followed by safety, product knowledge and ability to meet service needs.
[Paraphrased] Que.3 – What proportion of your total produce purchases are from a local producer?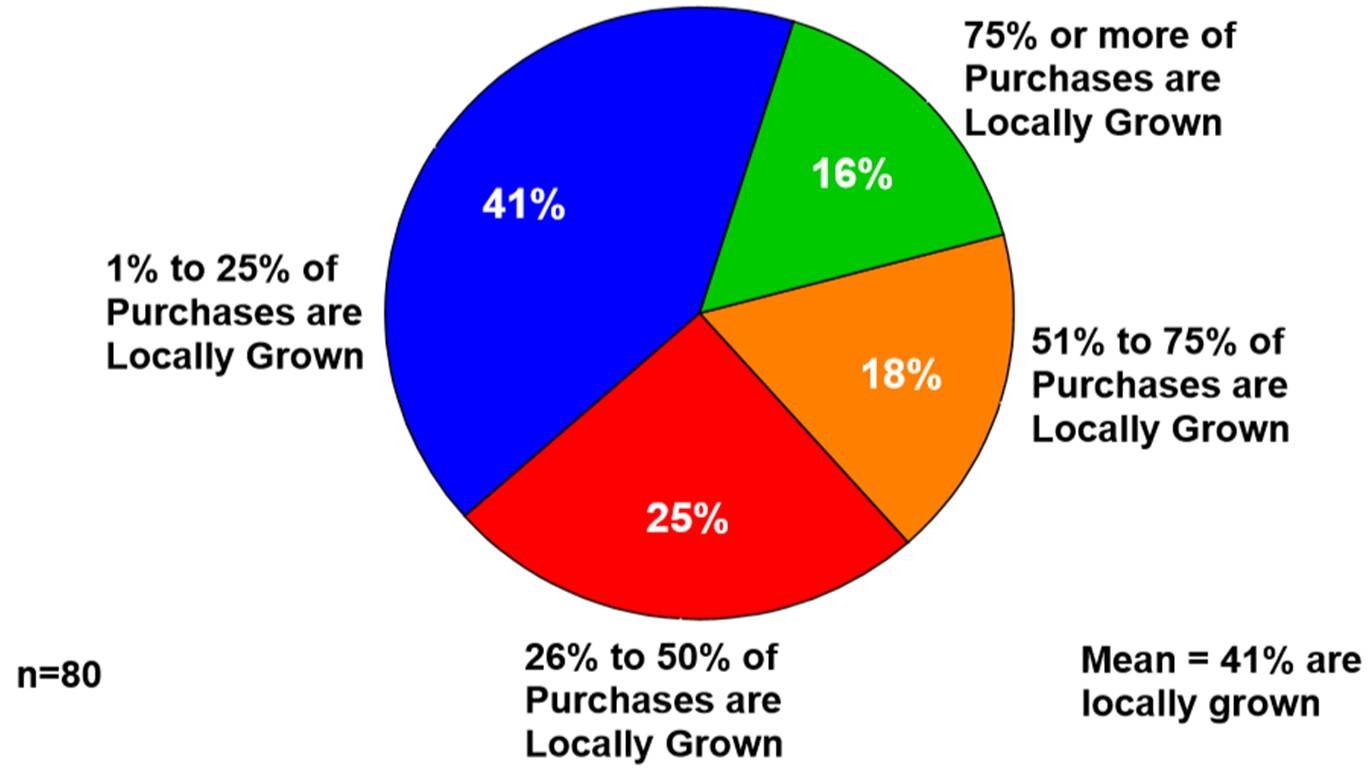 Whilst buyers favour the prospects of buying local produce, there is still much room for growth for adoption of produce in practice. A considerable bridge to gap for the right supplier.
[Paraphrased] Que.4 – Typically, where have your local purchases come from in the past?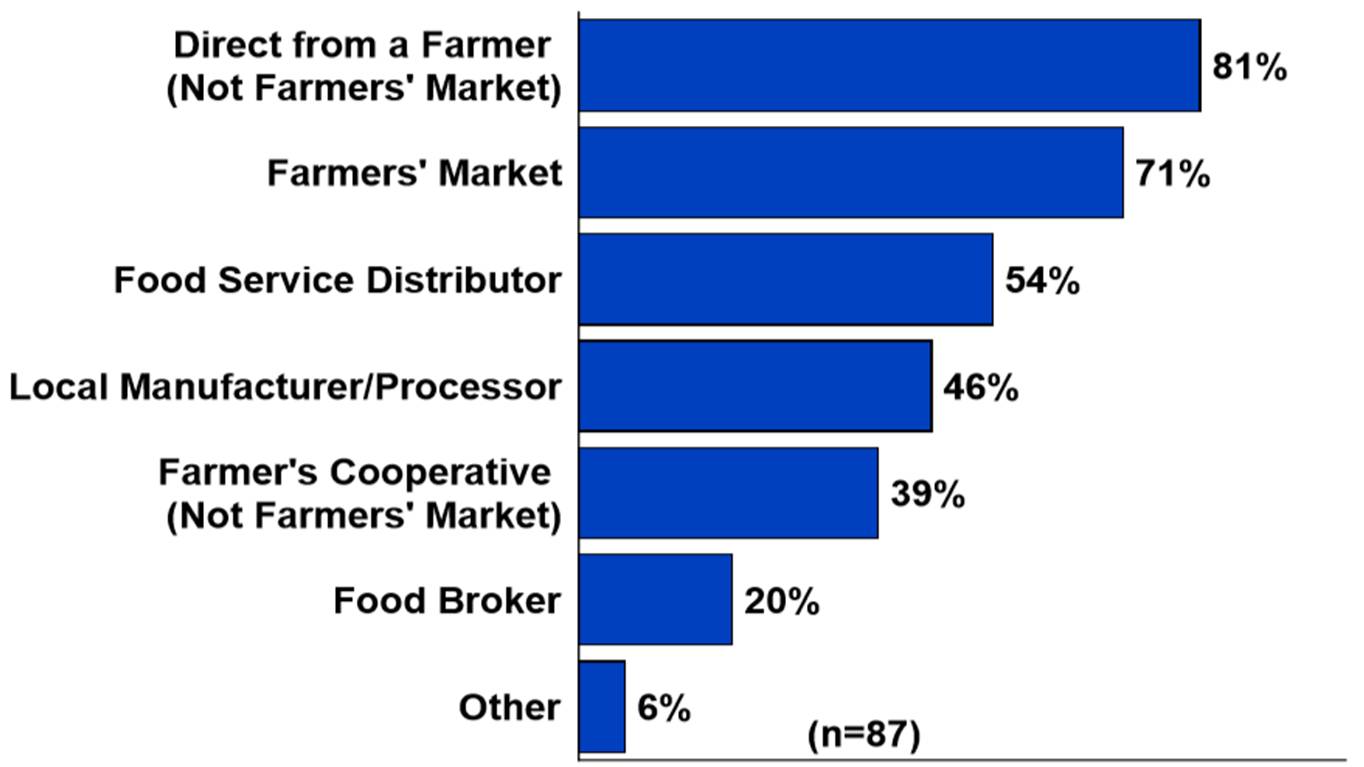 Restaurant chefs proved to be willing to experiment with where they sourced their locally produced food from. Most popular sources being face to face from the grower themselves – then followed by local middlemen.
[Paraphrased] Que.5 – What is your preferred source of locally grown produce?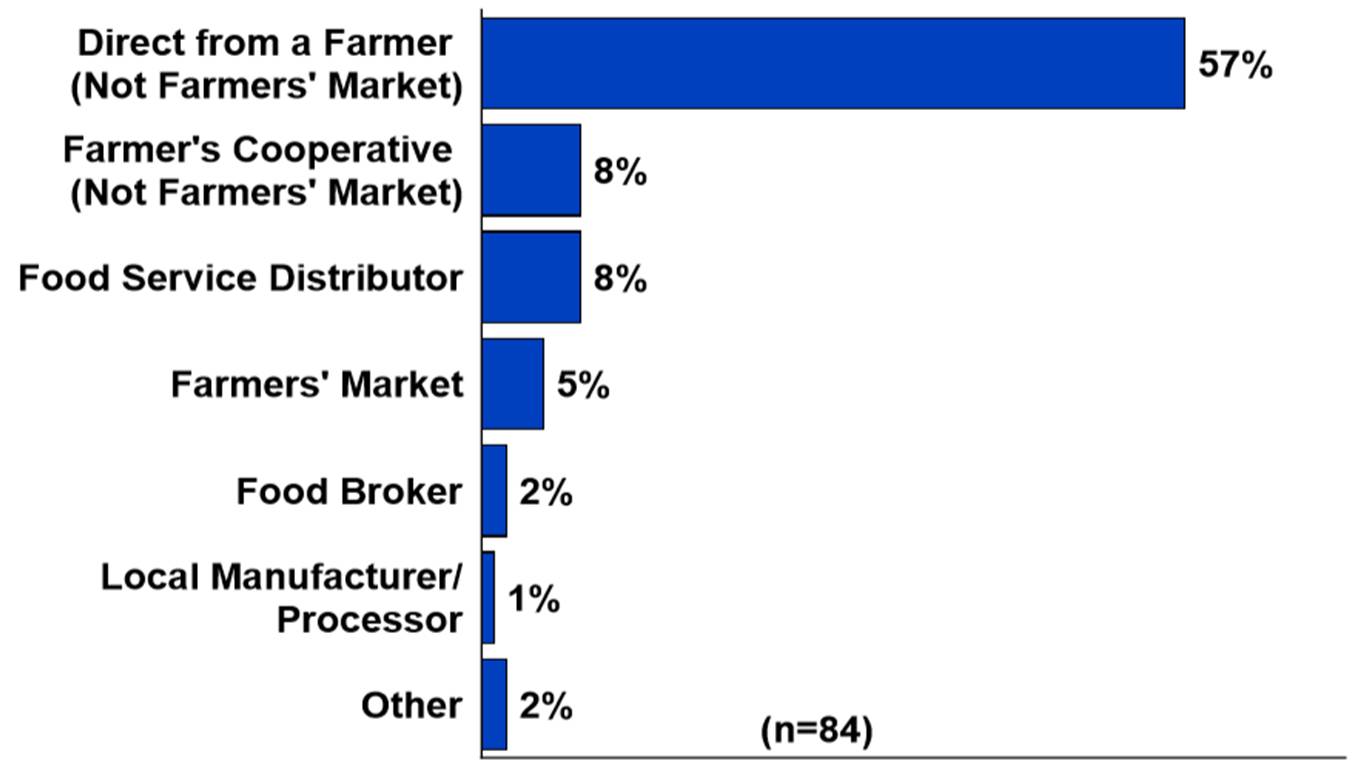 Their absolute favourite source for buying locally produced food, if they had it there way would be direct from the grower.
[Paraphrased] Que.6 – Do you see the purchasing of local produce profitable to your establishment's bottom line?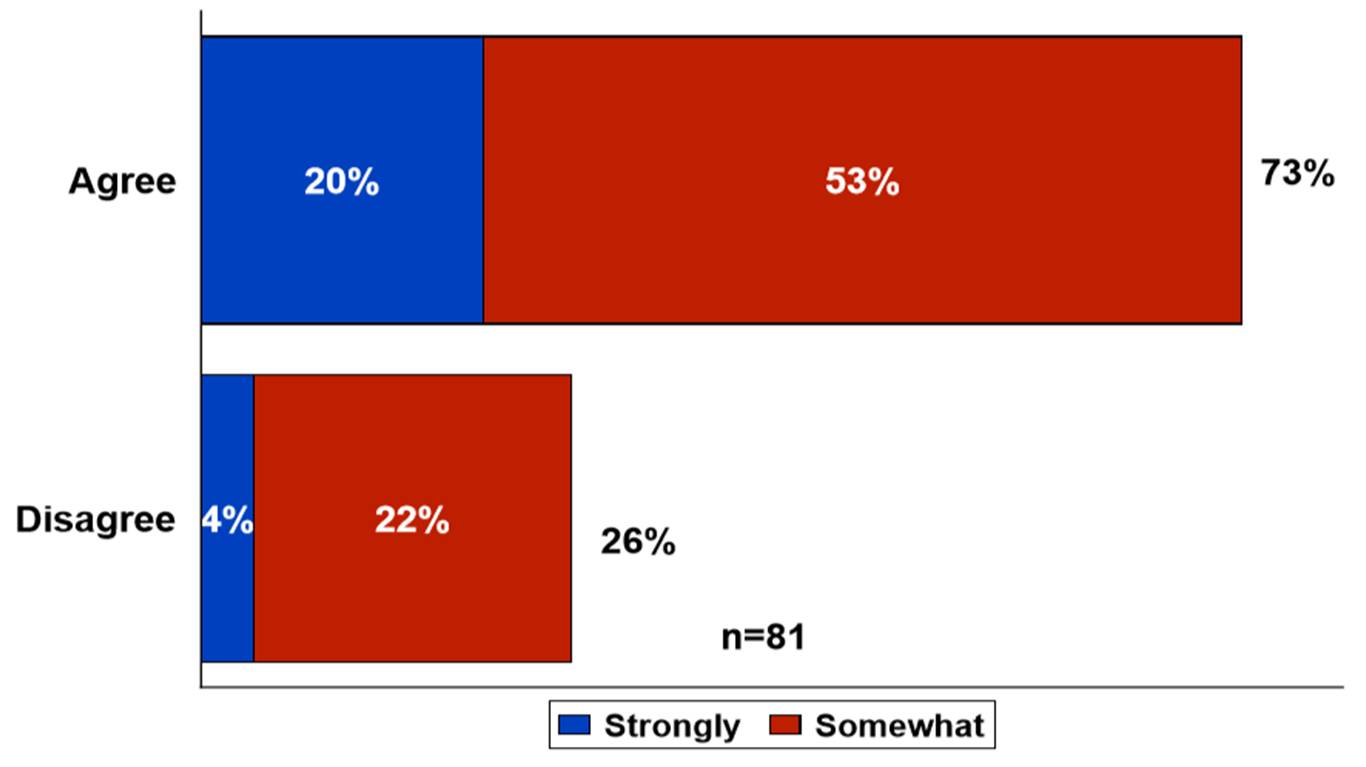 The majority consensus among them was that buying locally grown produce is profitable to their bottom line. A general concern and priority management objective of every restaurant chef.
[Paraphrased] Que.7 – Why does your establishment buy locally?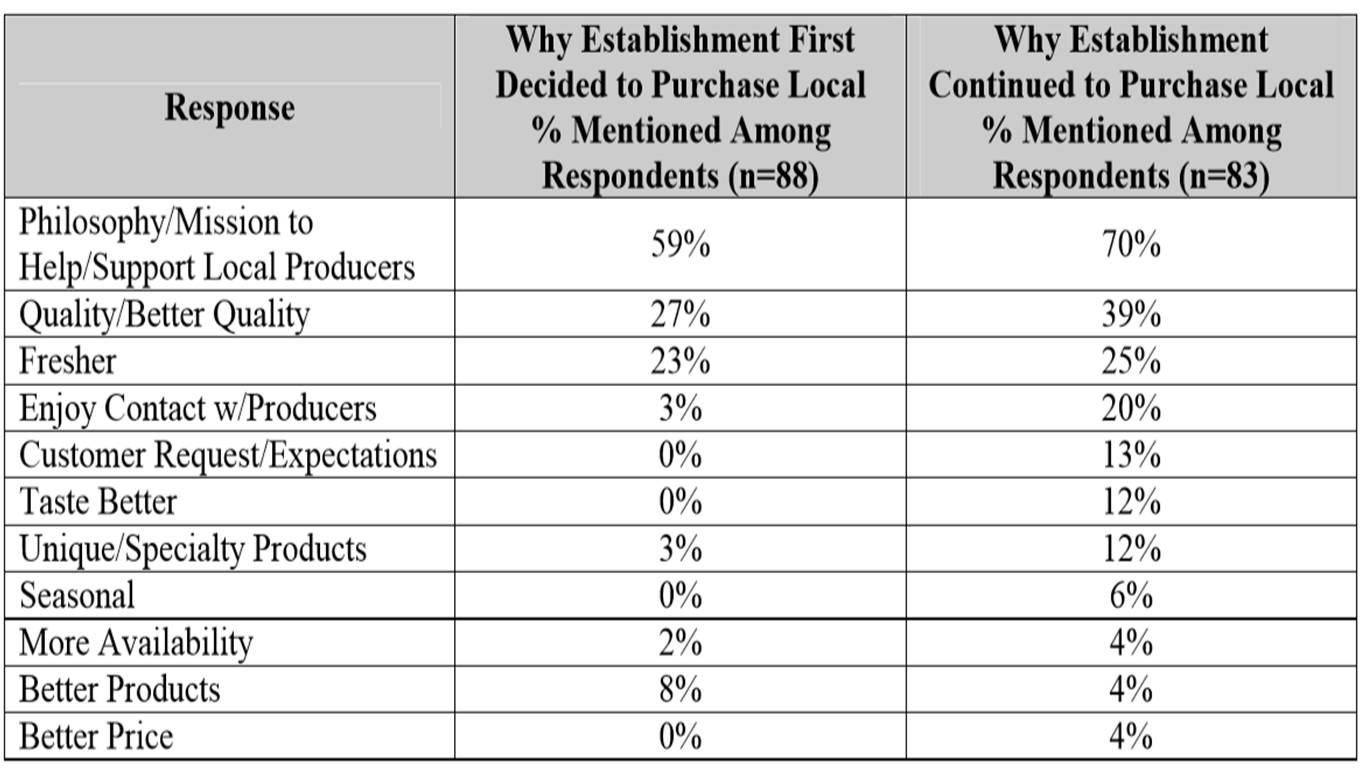 Encouraging news! The leading reason for why restaurant chefs purchase locally sourced produce is because they want to help and support your small local produce growing business. Have confidence.
[Paraphrased] Que.8 – What would encourage you to increase the variety of locally produced purchases?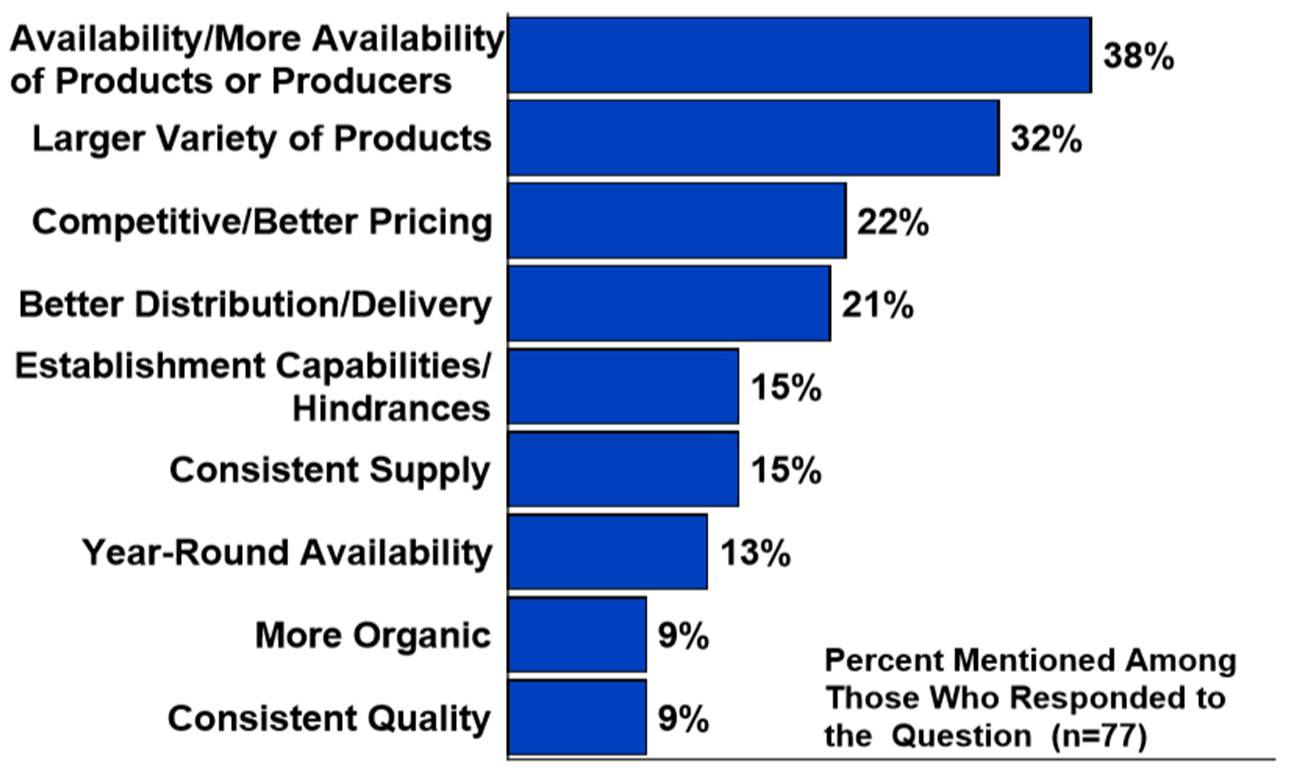 The main factors affecting increasing the uptake of locally grown produce are mainly choice/variety of product (or producers) and price.
[Paraphrased] Que.9 – What are the common obstacles to buying local produce?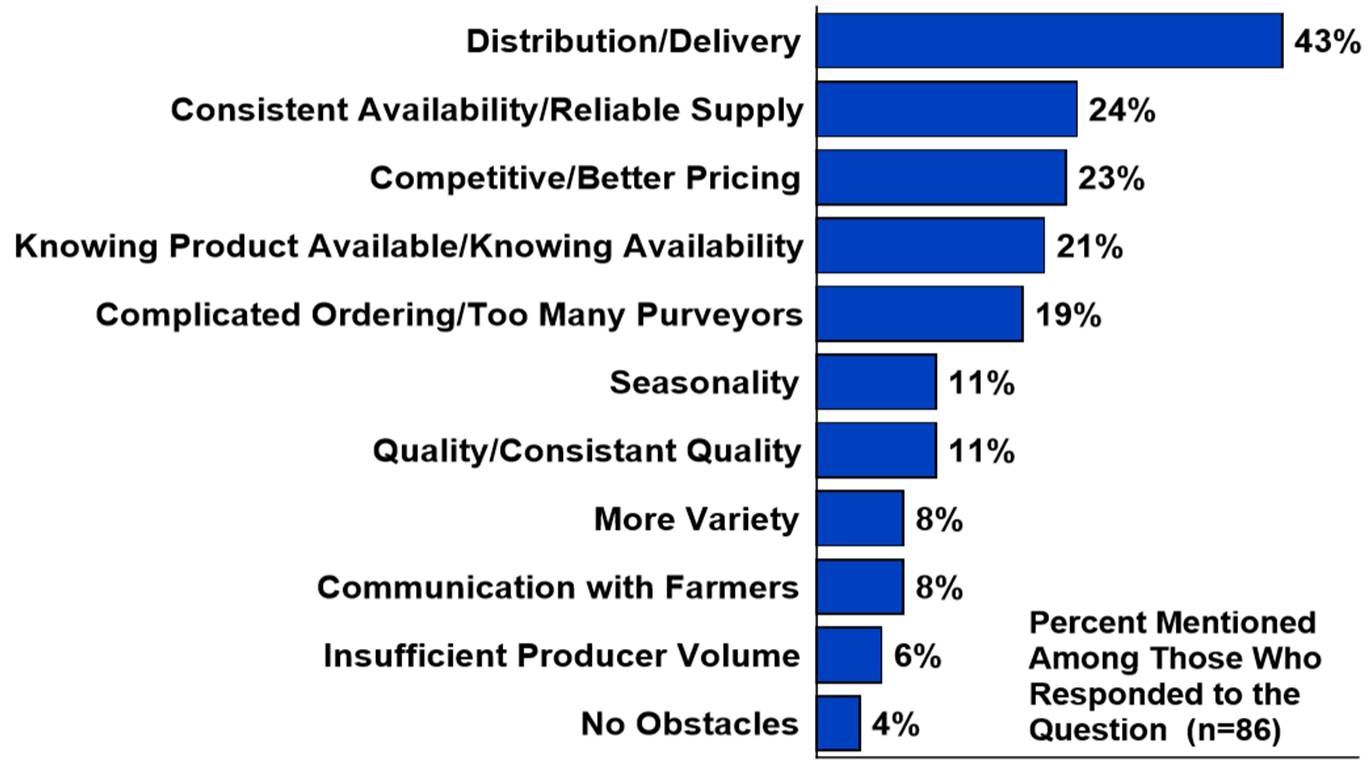 The main issues hindering increased adoption of locally sourced produce by restaurant chefs were to do with uncertainty surrounding service expectations e.g. availability and delivery.
Chefs being responsible for buyer outcomes are understandably not wanting to make their establishments suffer the commercial losses of failing to receive necessary produce as expected.
[Paraphrased] Que.10 – (90% of respondents promoted their locally sourced produce to customers) How many of this 90% of respondents found the promotion of locally sourced produce effective?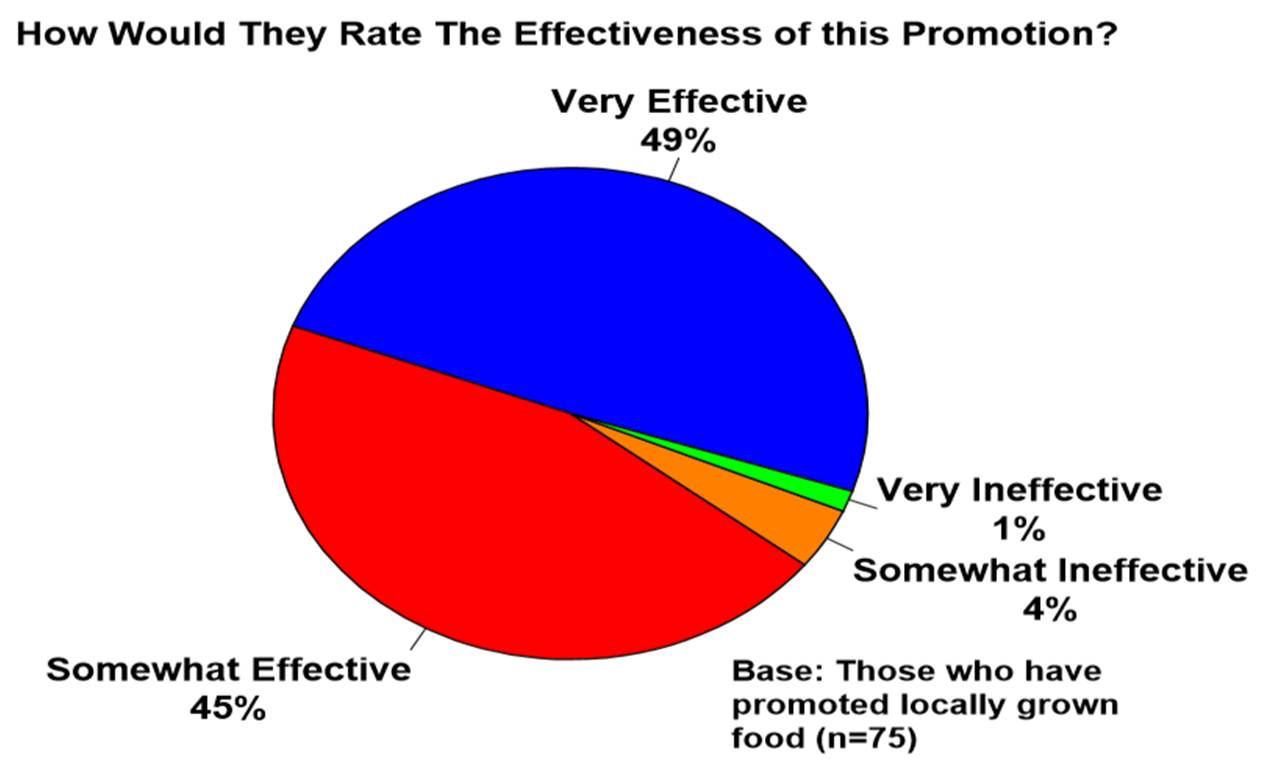 9 out of 10 chefs (base number=75) promoted their locally sourced produce.
The vast majority of this cohort of 90% respondents who promoted their local produce, considered their promotion to be varying degrees of effective.
[Paraphrased] Que.11 – What are the most effective formats for promoting locally produced purchases to customers?
The larger part of respondents advocated both the point-of-service and point-of-sale (POS) to be the ideal avenue for promoting local produce. Namely via their menu and waiting staff. Perhaps other POS merchandising options and opportunities could be explored?
[Paraphrased] Que.12 – What are the most commonly adopted locally sourced products?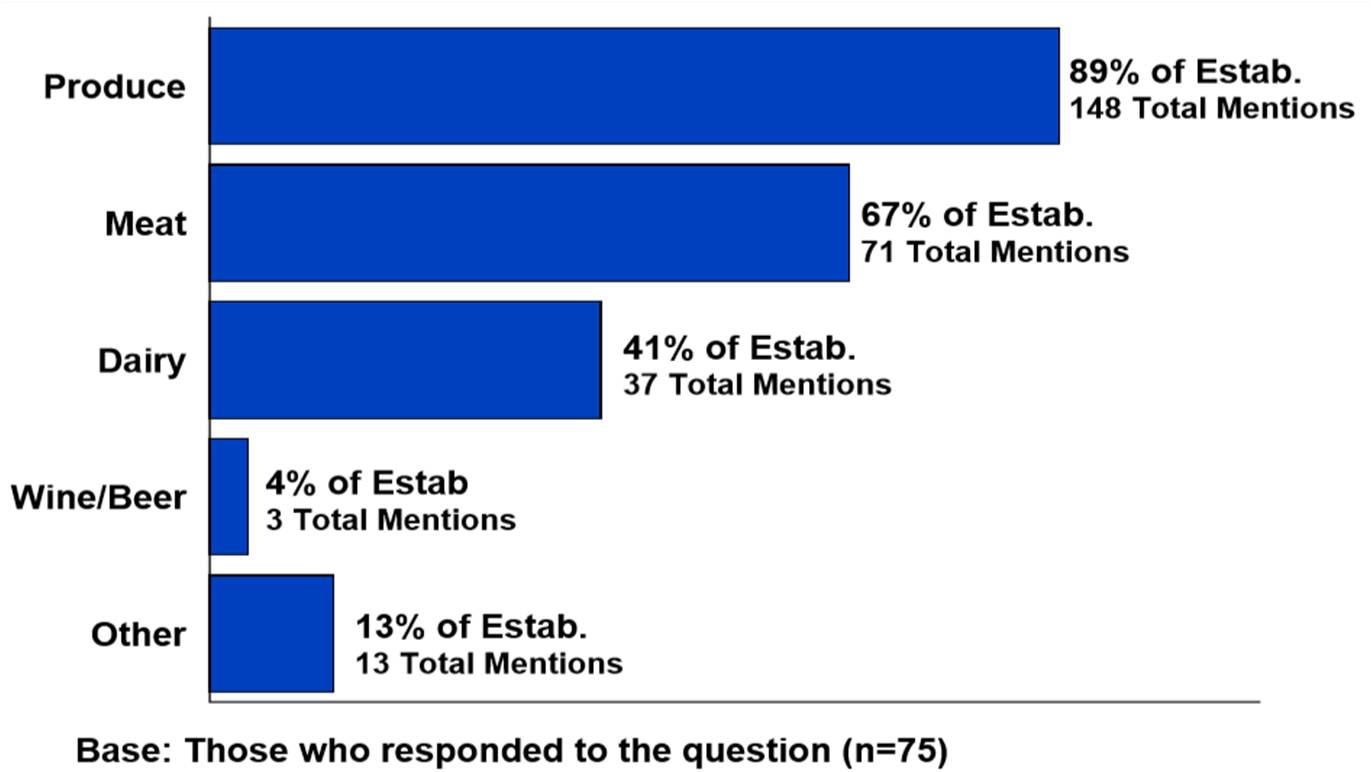 Most popular categories of locally sourced products purchased by chefs are: produce (fruit, veg, pulses, nuts, herbs, honey, cereals), meat and dairy. The staples.
What would the ideal local producer look like to a restaurant chef, based on the findings above?
In conclusion, the following profile is a summary of the 10 most favourable characteristics of local produce and their producers, as desired by these 383 experienced restaurant chefs – in ascending order – most important 1st:
Great quality, great taste.
Demonstrate product safety.
Know your products inside-out.
Make direct contact – not via a market.
Make a memorable statement with introducing your business and brand story.
Demonstrate your support of other local producers.
Offer a comprehensive variety of produce & consistent availability.
Be explicit in detail regarding logistics and scheduling.
Show pricing upfront – don't be afraid of transparency.
Offer point-of-sale promotional collateral & staff knowledge resources – they're likely to be used.
[H] – Insider tips to managing successful chef relationships
A choice picklist of some sound reminders which should put you in good stead when handling buyer relationships:
Establish clear service level agreements – get it written down and officially authorised what you agreed to do and how, without glossing over any detail.
Have a clear growing plan to share – make sure you show a clear plan of your expected yield throughout the seasons/year. This gives indication to your capacity and ability to deliver volume/variety.
Encourage whole farm support – aside from the promotion of staple goods, restaurant buyers and chefs might gladly lend their support to invest in non-staples and in-betweens. Why? They want you to survive in order to maintain a consistent offering to their customers.
Build relationships with staff & owners as well as chefs – there are many reasons here: staff changes, passing on product knowledge, greater understanding of their business & vision etc.
Promote your customer & their establishment – they want you to succeed and the feeling should be mutual. You should take enjoyment in promoting the profile of your buyers.
Chefs have a like and tendency to be artistic – embrace the artistic side of their character and share with them examples of arrangements with produce or perhaps innovative heirloom discoveries with interesting features.
Chefs like to learn & develop professionally – share facts on history, colour, taste & shape.
[I] Give good value produce, rather than low prices
Throughout the various sources of research contained within this guide, price is never counted to be priority over quality of produce.
Unanimously, where there is quality – there is a willingness to pay for it.
A temptation with many start-up businesses is to go low with pricing and compete on affordability.
This shows a general lack of confidence in the value proposition.
In many ways, it would pay to establish a greater confidence in the value proposition of your business – before making any ventures out into the marketplace.
It's damaging not only to your own business and it's sustainability, but also to other local producers' trade if the value of product and service is undersold.
[J] The round-up…
Selling produce to restaurant chefs and managers takes real professionalism.
But don't despair if you haven't got it together as yet – the odds (…so to speak…) are still in your favour.
Chefs are looking out for you.
And there is so much more they would want to purchase from local producers, like you – if they even knew where to look.
Get on the map and win yourself some interest.
Make sure you put reliable systems in place for communications, order processing, bookkeeping etc…to ensure the relationships once set, will not incur administrative weaknesses.
Don't underestimate your value to a restaurant or chef. Give realistic & confident pricing.
Understand that you are in demand and be quality focused – starting small and growing your business organically.
Have experience to share of selling produce to restaurants?
Join the conversation below.
---
References: