Learn how to successfully sell your farm produce online…a comprehensive guide!
---
This is an in-depth guide, showing you how to sell produce online.
The best part about it?
We cover everything you need to know to make it work for your online farm shop.
So…have you ever wanted to know how to build your own industry standard e-commerce farm business?
Read on 😉
Our experience in building local online websites…which SELL!
We've been helping local business sell online now for about 8 years.
Our experience spans many industries…
…many territories.
Both service businesses and product businesses alike.
We have seen so much of what works and have also had the privilege of seeing what doesn't.
We've helped start-ups, as well as existing businesses get better online.
Finding new customers
Offer more value to current customers
Launch new product lines
Grow rapidly, but sustainably
Generate a regular stream of new visitors
Convert interest into sales
Our strategy for success is based on organic growth and long term market share ownership.
Simply put, zero-debt and future friendly.
What We Learned About Selling Produce Online From User Surveys…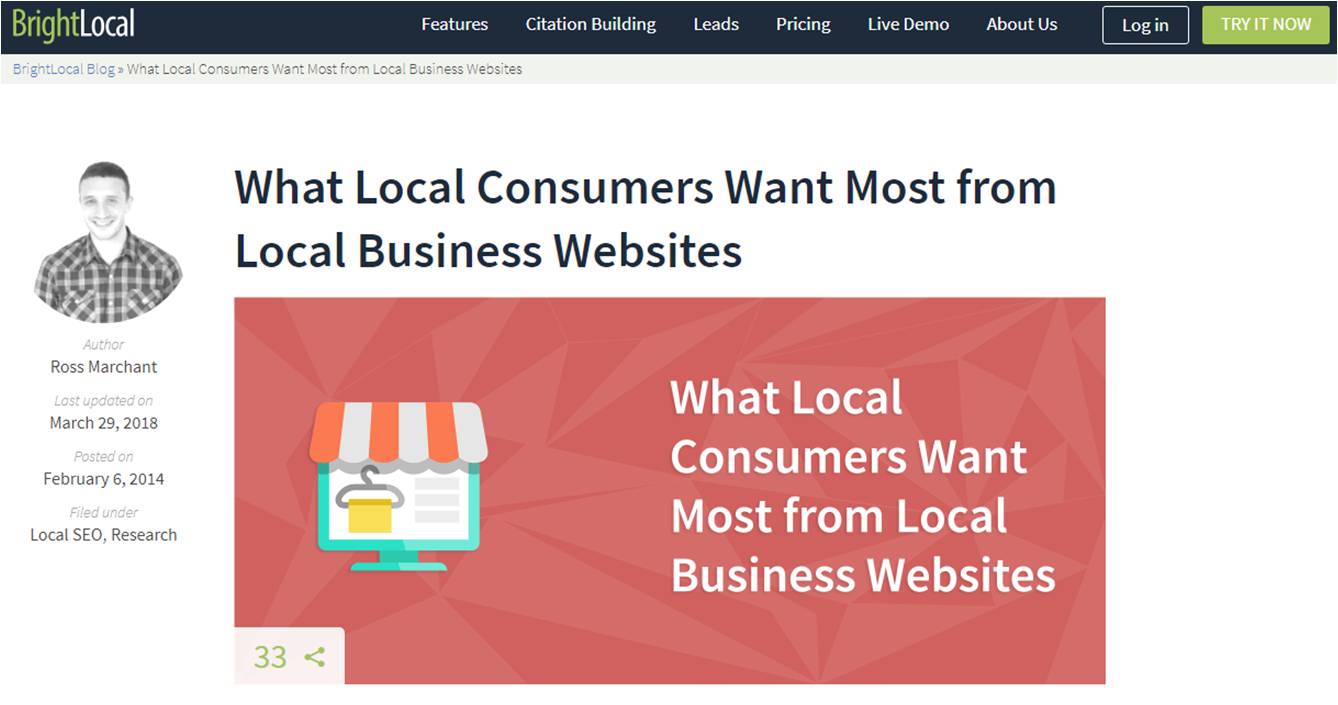 Local SEO software purveyors & experts, Bright Local, published some very useful tips uncovering to behavioural patterns and motives of search users looking for local businesses online.
[They] asked 4 questions relating to the design & content of local business websites.
In total, Brightlocal fielded 811 responses from their panel and collated the following results.
Here are the lead take away points from the local business website survey…
36% of respondents favoured clear, smart, local business web designs as being credible
Women were more likely to get in contact with a local business, by email, if they have a website
Men were likely to find a website credible if the website design was smart and clean
Over 55's found a clean and smart looking local business website credible
18-34's were more likely to contact a local business if there was a website online
The most important local business website content for engaging consumers are as follows:
product content
prices
full address details
phone number
…then…
opening hours
contact email
attractive web design
With the criteria above, the panel of local consumers would determine if a business is a good fit for their needs.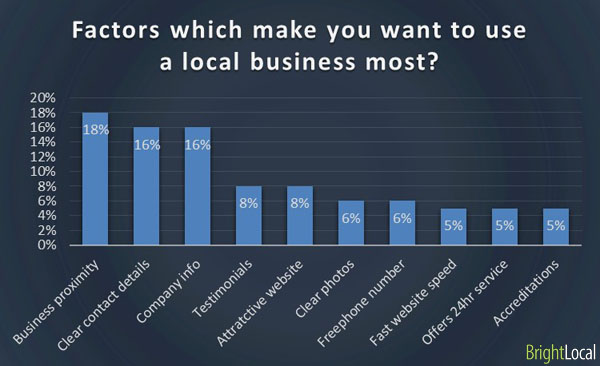 The user's motivation to use the local business relied on the following website features (in order of priority):
proximity of business
clear contact details
company info
testimonials
attractive website style
website speed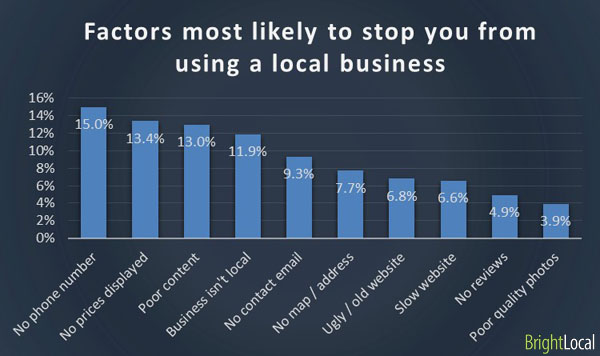 The biggest deterrents for consumers getting in touch with local businesses via their websites were (in order of priority):
no phone number
no prices
poor content
not actually local
no contact email
no map
old
slow
no reviews
In conclusion, be transparent, be clear, comprehensive and concise.
Tips for selling produce online via your local farm business website:
Invest in a smart and clean looking web design.
Make sure the most important 'transactional decision making detail' is upfront.
Give the physical reassurances to consumers of visiting your brick and mortar premises.
Keep products, prices and phone number upfront.
Keep your physical address in full view at all times.
Provide an email address for direct contact as rather than a contact web form.
Laying A Solid Foundation For Successfully Selling Produce Online
[Warning: it's necessary that things get a little technical in this next chapter – but we hope we've made it easy enough to follow…]
E-commerce (online shopping) is dynamic.
It exists in a constant state of change.
Ecommerce website therefore must embrace change, with ease!
Products and related service information is often (…if not continuously) being added, taken away or changed.
Data is the predominant driver of change in e-commerce.
Large amounts of commercial data is generated, processed, stored, augmented, shared, analysed etc.
Where web technology is concerned, the ideal tool for efficiently and effectively managing a content intense workflow is a content management system.
What is a content management system?
"A content management system (CMS) manages the creation and modification of 'digital content'. It typically supports multiple users in a collaborative environment" – Wikipedia
CMS (content management software) makes the handling of web content by businesses quick, easy and automated.
CMS platforms are also used by multiple users, with varying & customisable levels of permission.
…but what are the bottom-line business benefits in a nutshell?

Let me translate the 5 points in the above image into simple business speak (…with benefits):
Freshness of content –

keep your online shop up-to-date, effortlessly…always keep customers informed with timely messages

Use of templates –

never duplicate efforts when publishing shop or product details…save time, cost & surprises with a "Here's one I prepared earlier approach." to shop content

Access & update websites from anywhere –

make it easy to get staff involved (very little training/instruction necessary) with maintenance and adding value to your online shop

Easy availability of plugins and widgets –

set-up your online shop as a solid match for exactly how you run your business. Get it functioning just right for optimal customer satisfaction and sales.

Good for SEO –

make selling produce online easy with a website that works well with Google and other search engines. This means when customers search for your produce online, they consistently find you.
Also, you lower the technical bar of competency allowing internal staff with lower IT proficiency to add substantial value.
There are all kinds of digital content and also many reasons why you online farm shop should use a variety of digital information.
What is the best content management system to use for selling produce online?
In our opinion = WordPress CMS.
What is WordPress?
WordPress is a software platform which makes building content rich, business websites easy for everyone.
Using the leading web languages PHP, HTML, MYSQL, CSS, JavaScript – WordPress rests on a solid foundation (…for those of you who know what those acronyms mean!).
Yet, it is equally effective in the hands of technically practiced professionals as well as non-tech newcomers.
WordPress is proven and has stood the test of time =

approximately 15 years to date of publishing.

WordPress is popular and gets many votes –
WordPress is ahead of it's peers –
WordPress is offered free –

released as an OpenSource project, without licencing restrictions. Many use it and extend it's use all the time.

WordPress is easy to learn & has tons of resources online –
WordPress is customisable –

so flexible, all you need to do is plan what you want it to do and you won't struggle to discover a solution.

WordPress integrates well with other software –

API friendly software enables WordPress to collaborate well with 3rd party add ons and software programs.

WordPress offers control and ownership –

host your own site on a server of your choice (there are loads of beginner level online hosts with cheap charges.

WordPress is growing –

thousands of independent developers work daily, worldwide, to extend the practical benefits of WordPress

WordPress works well for both complex and small projects

it is scaleable to suit the needs of the individual business

WordPress skills are everywhere

WordPress helpers are available to your farm business for keeping you on the WordPress cutting edge – at affordable rates
Genesis Framework – the ideal web theme for your WordPress online farm shop
What is a web theme?
Web themes control styling and appearance of website.
They are a combination of pre-configured features and characteristics which can be changed to suit the purpose.
Some themes are more flexible than others.
Others require more technical know-how, whereas some allow you to get going right away from scratch.
You don't always have to pay to get a theme, but typically if you do – you could get more refined results.
A snapshot illustration describing the Genesis Framework…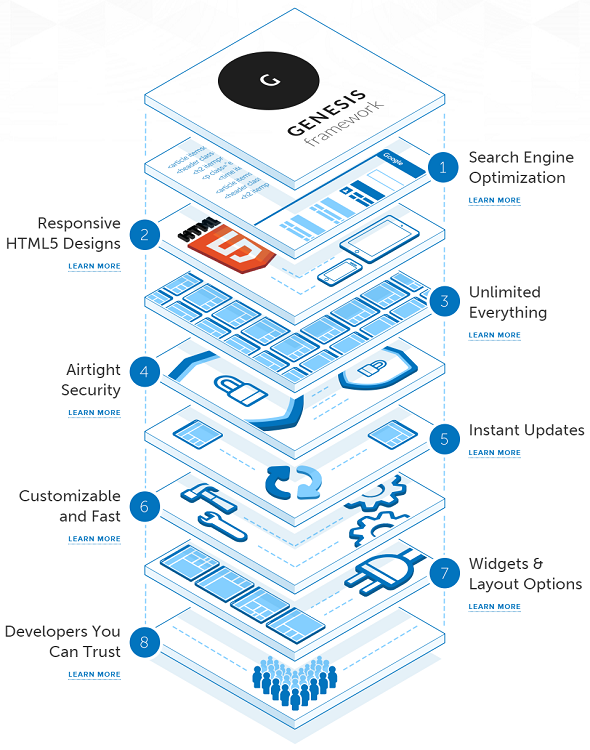 So what is so different about the Genesis Framework?
In our own words, we'd say it is stability with variability.
We've handled loads of web themes and frameworks over the years.
It's been in our interests to do so, seeing we've consistently used WordPress to build clients websites for 8 years now.
We've always sought to do things better, quicker, cheaper and with more profitable results all-round.
The theme or framework which offers the best return-on-investment been by far has been – Genesis Framework.
We particularly like the fact that you can once you get used to it, it is very easy to customise.
However much you stretch it though, you never lose it's core qualities, or feel.
It also allows 3rd party software plugins to function and render consistently well across all device formats & browsers.
Simply put, if you are going to invest in an online WordPress powered farm shop – Genesis Framework is a prudent choice.
Anyway, that's probably enough techie talk…
…now let's get back to business.
Best Practice Web Design For Maximising Your Returns Online
Your farm-based business may not just be agricultural.
Similarly, your website needs to reflect the diversity of your enterprise.
More than often, farm-based business websites must competently handle…
selling produce
making bookings for space rental
registering subscribers
asking questions
hire equipment, land or building space…and much more!
Your business model will dictate the content and architecture of the website.
In the example below, we suggest a typical set of core web page pages for a rural business.
Example navigation web pages for a farm-based business…
Home

…general commercial introduction to the business and it's main product/service

About

…deeper insights into your company, ownership team, history, staff and future business plans

Shop

…the front door to customers viewing your product offerings

Wholesale Orders

…offer bulk buy discounts? Dedicate a page to detailing your wholesale terms and conditions – with ordering capability.

Samples

…encourage 1st timers to arrange a product sample in the post or by collection, before committing to buy

Courses

…allow attendees to book and pay in advance for reserving places on your courses.

Open Days

…advertise open invitations for locals to visit your premises on set days that you plan to demonstrate your value offered first hand

Reviews

…collect and display customer feedback on your business in general and individual products and services

Blog

…publish frequent business updates and customer focused content to engage your online audience constructively

Hire

…allow customers to directly book your estate and/or equipment by registering their interest via your website
There might be need for more or less than the quota above within your farm business website.
Can you suggest anymore? Comment below.
Need a different line-up of pages?
The great thing about content management systems, like WordPress (mentioned in the chapter above), is that you can always add or subtract pages with ease.
Plus, you can flexibly customise page function and behaviour by selecting software options in the background.
Now, what about your customers perspective?
What can users of your website expect to see?
And how can you improve their experience?
Let's take a look…
Your Optimal Website Anatomy For Converting Online Visitors Into Paying Customers
E-commerce agency, Nublue, have produced the infographic below in order to sum up a successful approach to engaging customers online for your farm shop website.
We rate the advice given…
& we hope you'll find it useful too.
7 Winning Features Of A Leading Online Farm Shop
When selling products to a local marketplace, there are just somethings that you don't play around with.
They are staple markers of success.
They help engage your marketplace and establish you as credible and worth buying from.
Here's our top 7:
1. Name, Address and Phone Number
Otherwise known as NAP, in local SEO speak – this simply are your business's most relevant proofs of credibility. When Google and other search engines want to pin you down for location on their map – this is the primary determinant.
Get this right and consistent in format across the web and you'll make a strong impression upon local search.
2. Multimedia
According to leading industry studies, younger users particularly (18-33+) engage more favourably with media rich website presentations.
If you want to mix-up your traditional farming customer base, with a more diverse range of local interest…
…get savvy with your digital content.
3. Users Gallery
Genuine first hand experience of product or service quality goes a long way.
Often when customers receive great value from a product or service – they're just brimming to tell someone about it.
Convert such appreciation into attractive visual content, such as photo or video, for sharing with newcomers.
4. User Generated Content
Customers can get outspoken and passionate about particular products or services.
Where it's on-topic, why not nurture constructive discourse via your website?
This ups your content freshness, without you having to do all the hard work of curation.
It also gives valuable user insight into how your products or services are perceived by your market.
5. Mobile Search Friendly
With over 80% of local business online search made using a smart phone, it would be remiss to ignore mobile readiness.
But where do you start?
Why not develop a mobile-first online farm shop?
We've seen conversion rates on farm produce increase by as much as 200%, following the adoption of a mobile first design.
6. Schema/Rich Snippets
Google and other search engines like it alot when websites make things easy for them to search.
Labelling and organising data on your website is time consuming, but it yields long lasting rewards…
…both with robots and people.
Schema.org is a structured web data project part founded by Google (…hint, hint), Microsoft, Yahoo and Yandex – which also just happen to be the top online search engine companies.
Schema.org comprises a set of vocabularies, encoded in various formats.
It basically does the job of granting search engines better understanding of what purpose your page fulfills.
Better understanding of your content = less friction in their organising of your content for search rankings and better user experiences.
7. Branding
Brand identity online should reinforce your street level presentation.
Consistency will increase your brand awareness and credibility overall.
The more people see your business presentation portray quality and attention to detail, this offers assurance that an investment in product or service will be in safe hands.
Media agency, 99Medialabs, have put together the following "32 Steps On Local SEO Success Roadmap" – which we share with you:
Get The Best Out Of WordPress For Selling Your Local Produce Online…with Woocommerce!
– VL Omni Data Integration "Woocommerce Infographic: How To Integrate Your Webstore."
Woocommerce is a WordPress-based plugin software, which instantly transforms your humble website or blog into an online shop.
Now owned by the makers of WordPress itself, Woocommerce has fast become a leading digital marketing tool for selling online.
Because of it's scalability and usability for both storeowners and customers, we highly recommend it to you as a means of selling your produce online.
Whether you are just starting up, or looking to migrate an existing successful ecommerce operation – Woocommerce has just what you need.
Let's take a walk through its functions…
First off, these are the server requirements you'll need with your hosting company…
Woocommerce requires the following server capability:

PHP version 7 or greater
MySQL version 5.6 or greater OR MariaDB version 10.0 or greater
WordPress memory limit of 128 MB or greater
HTTPS support
Any doubt…ask your hosting company technical support, or sales team.
Struggling for a hosting recommendation? Woocommerce give Siteground.co.uk the nod.
One of our clients use them – to date, their customer service responsiveness and general product performance has been excellent.
When you set-up your Woocommerce installation – these admin options are up for grabs…
Widgets
In WordPress jargon, widgets are page elements which sit in the margin of the page, either to the right or to the left of the main page content.
The widgets which sit in this area usually perform specialised tasks.
Woocommerce comes with the following complimentary widgets to boost you online farm shop performance:
products display…

displaying products either by:

date
price
sales
category
random
rating
reviews

product filter by attribute…
These functions improve navigation experience of users, enabling them to find products they desire with much ease.
Shortcodes
Shortcodes are Woocommerce's way of displaying shop features by way of writing web code in quick and easy shorthand.

Store owners are able to insert the following functions in pages with these short snippets of code:
Cart
Checkout
My Account
Order Tracking Form
Various product attributes like: SKUs etc.
Use of shortcodes saves time and enables non-coders to insert such functions into the website with ease.
Language translation
Woocommerce comes with built-in translation readiness in any language for which there has been a translation file submitted.
There are currently (at the time of publication – 10.10.2018) 176 language files available – covering languages from Afrikaans to Zulu.
Taxes
Woocommerce is able to calculate and apply taxation rules to purchases of products in the checkout.
These rules are controlled as administration options in the WordPress dashboard.
Variable rates of levy according to shipping options or products chosen etc. can be applied quite simply.
Currency
The full range of currency options are available with Woocommerce stores.
However, the software is currently only able to support one currency being in use for any one particular installation.
Orders & Coupons
In the admin dashboard, all your order detail is held in one easy to reach section.
Within the same area, it is possible to add and track the performance of coupon codes related to your marketing campaigns.
Config
There are a wide range of shop settings available to configure:
General store settings: shop address, currency, shipping locations, taxes…
Product settings: dimension and weight units, enabling reviews and ratings…
Inventory options: low stock level notification, hold stock, out of stock visibility…
Payment preferences: direct bank transfer, cheque, cash, Paypal, Stripe etc…
Email notifications: new order, cancelled order, failed order etc…
Taxonomy/Information Architecture
Products & categories are classified and categorised very strictly to avoid duplicate items.
This control is reinforced by page addresses possessing a unique permalink (URL).
Roles & Capabilities
In Woocommerce, there are 3 roles with the following abilities:
Admin – unrestricted shop administrative/ management access
Shop Manager – able to change settings and produce reports
Customer – read access-only, account information access
Troubleshooting
There is a vocabulary for identifying specific functional issues, which occur within your online shop from time to time.
These notifications make it very easy to pinpoint any problems and shave down response time.
APIs/WebHooks
Want Woocommerce to talk to a 3rd party software, like and email marketing provider?
By use of webhooks you can seamlessly integrate functionality with other compatible software.
Great added value and minimises upheaval – keeping things within your business connected.
Editing
Products
Woocommerce makes it very simple to add and manage products within your online farm shop.

Product variations also can simply be programmed without duplicating large rafts of content.
Shipping classes can be applied as rules to assist customers select their preferable methods and tariffs.
Carousel images or static image galleries can be set-up on product pages – accompanying product descriptions.
Product attributes can easily be amended at the click of a few keys.
Adjust image dimensions in order to avoid poorly resolved picture quality.
Publish links to other products on product pages which have complimentary qualities, encouraging cross/up sell.
Bulk import and export product details using CSV (the simple file format utilised by tabular data crunching software like MS Excel).
Storewide Notice
Have any urgent messages which you wish to communicate to all store visitors?
Use, the storewide notice.
This banner function enables you to publish universal notices with high priority, so that nobody misses out.
Payment Options
Woocommerce enables customers to choose from a select panel of approved payment options to settle their transactions:
Paypal – online payment system for sending and accepting payments over the internet, without having to input your payment details each time.
Cheque
BACS (direct bank transfer)
Cash
Stripe – online payment solution
Braintree – advanced online payments partners
Klarna – Swedish bank with a specialist interest in online payments
Refunds
Woocommerce supports automatic refunds, as long as your chosen gateway is compatible via API code.
Let's explain what is meant by automatic refund…
…when a customer refund has been authorised by you or staff, you are able via Woocommerce admin dashboard to flag the original purchase as 'refunded' – this in turn will trigger the actual return of funds to your customer via the payment gateway used.
Want to know if your preferred payment gateway is compatible with Woocommerce auto refunds? Click here.
What's the alternative?
Manual refunds…flag it up in Woocommerce admin dashboard and separately log into the payment gateway and process the return of funds.
Instead, a 2-step method.
Reports
Stay on top of monitoring for commercial goals and objectives with Woocommerce reporting.
Generate reports to provide managerial insight of online shop performance.
Report by…sales, customer, by stock/inventory or by taxes – even export data to user friendly tabular format CSV.
Dashboard KPIs
Need a quick commercial overview of performance at your finger tips – especially during relevant online administrative events like logging in?
See the Woocommerce KPI (key performance indicator) dashboard.
Status widget – monthly sales total, top selling product, order awaiting processing, low stock, out of stock…
Recent reviews – keep on-top of the customer feedback loop with this useful snapshot of the latest activity
Use Etsy? – Migrate To Woocommerce!
If you are already selling craft products via Etsy?
If you want to change over your online shop to Woocommerce, there is a one-time import utility available which allows for simple transfer of your product data.
Extensions
Looking to integrate online bookings into your online farm shop…for events reservations, perhaps?
Extend the basic shop functioning of your Woocommerce with this plugin offering configurable settings and flexibility to suit your event booking needs.
Have a need to restrict content and resources within your online farm shop?
Use this plugin to extend Woocommerce allowing you to manage membership privileges among your customer base.
Set time sensitive restrictions to membership offerings and with precision pinpoint the restricted web page content by page or post.
Has This Helped You In Understanding How To Sell Your Produce Online?
We would hope so.
Because of the nature of the discipline involved, it is quite a technical read.
Nevertheless, we hope you'll walk away from this guide with enough to get started successfully (if you haven't already)…
…or, vastly improve your shop should you have one already.
Want a helping hand in preparing your online farm shop for higher heights?
We'd be happy to share a professional opinion – or even, perhaps work with you on your project.