Are you thinking about buying a smallholding property in Bedfordshire?
We have compiled the following online guide to assist you making the most beneficial decision.
This will help you if you are:

Needing to establish a realistic budget
Looking for a local agent
Interested in attending an auction
Want to find other smallholder producer

…plus many other practical tips
Here it is…
…the Guide To Buying A Smallholding In Bedfordshire…
Introduction to Rural Bedfordshire
Rural Bedofordshire, based in the southern midlands of England, UK is approxmiately 465 sq. miles in area. It has a thriving local community.
The land is relatively low lying and is complimented by a number of rivers, the greatest of which is the River Ouse.
The majority of the land is in active agricultural use by resident growers.
The Dunstable Downs provides the landscape elevation to the tune of some 800+ feet at the highest.
Among some of the most popular, yet rural settlements with populations under 2,000 are the following:
Aspley Guise
Elstow
Slip End
Shanbrook
(Bedforshire facts and figures above, quoted from: Country Wise website)
Average detached house prices in Bedfordshire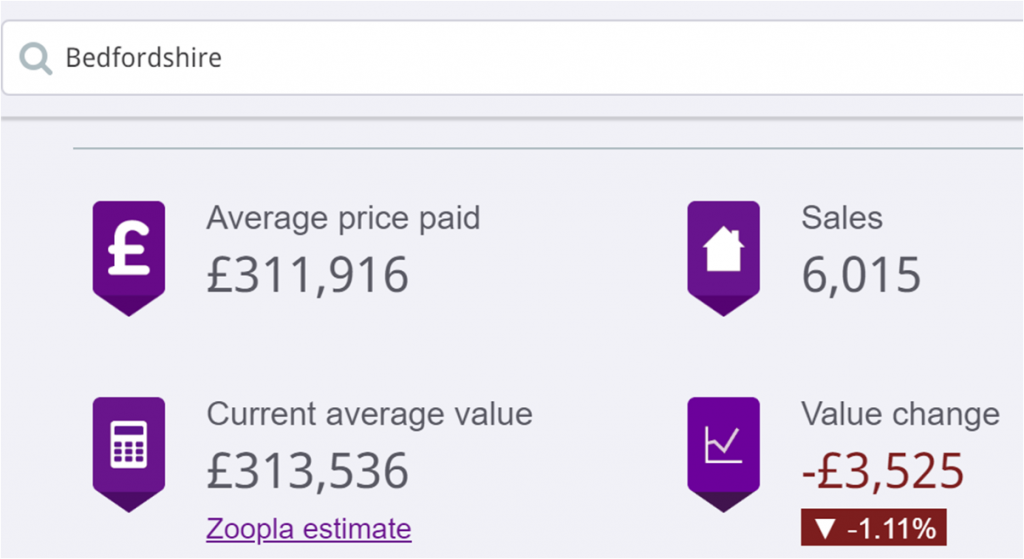 (Screenshot above taken from Zoopla)
Throughout 2019, the average price paid for a detached house sold (not necessarily a smallholding, however) was: £311,916 according to HM Land Registry (as quoted in Zoopla).
There were 6,015 detached house sales in Bedfordshire during 2019.
The average detached house price decreased in Bedfordshire by 1.11% or £3,525 in 2019, as compared with 2018.
Example Bedfordshire smallholding sales completed in 2019
14 Church Lane, Riseley, Bedford, Bedford MK44 1ER
4 bedroom detached house
thatched tudor period property
sold on 28 Mar 2019
Sale price: £515,000
20 Spinney Road, Chawston, Bedford, Bedford MK44 3BW
3 bedroom detached house
three reception rooms
conservatory
detached barn
6 acres of land
sold on November 2018
Sale price: £640,000
For local planning permission guidance in Bedfordshire, contact the local planning authority:
Telephone: 0300 300 8635
Lines are open Monday to Thursday, 8:30am to 5pm and Friday, 8:30am to 4pm.
Email: building.control@centralbedfordshire.gov.uk
Building Control
Central Bedfordshire Council
Priory House
Monks Walk
Chicksands
SG17 5TQ
Rural Estate Agents & Auctioneers in Bedfordshire
Buying smallholdings is a specialist business. The following are some agents & auction houses which typically stock smallholding for sale opportunities across Bedfordshire county:
Cooper Beard Estate Agents: Provincial House, 3 Goldington Road, Bedford MK40 3JY
Robson & Hall: 118 Bromham Road, Bedford MK40 2QN
Farmers' markets in Bedfordshire
If you are thinking of selling produce grown on your smallholding, there are several farmers markets within Bedfordshire, some are listed below:
Chefs in Bedfordshire
If you are considering recruiting some local chefs as potential buyers of your planned market garden produce, the following are Bedfordshire notables:
Farm shops in Bedfordshire
Considering supplying a greengrocers or farm shop in Bedfordshire with your home grown produce, here is a shortlist:
Agri equipment suppliers in Bedfordshire
For more intensive agricultural operations, you will require a fine compliment of equipment and tools. The following are popular choices within Bedfordshire for agri equipment supplies:
Feed suppliers Bedfordshire
Want to know you'll have good quality animal feed on hand whilst living from your Bedfordshire smallholding? Here is are some options to get you going on your way:
Broadband coverage for smallholdings for sale in Bedfordshire 2019
Taken as a sample from the currently listed smallholdings for sale in Bedfordshire Dec 2019, we have provided the following mobile phone coverage reports, as a guide for what you might expect:
Bluebells, Chawston, Bedfordshire Mk44
Mobile Phone Coverage MK44 3BL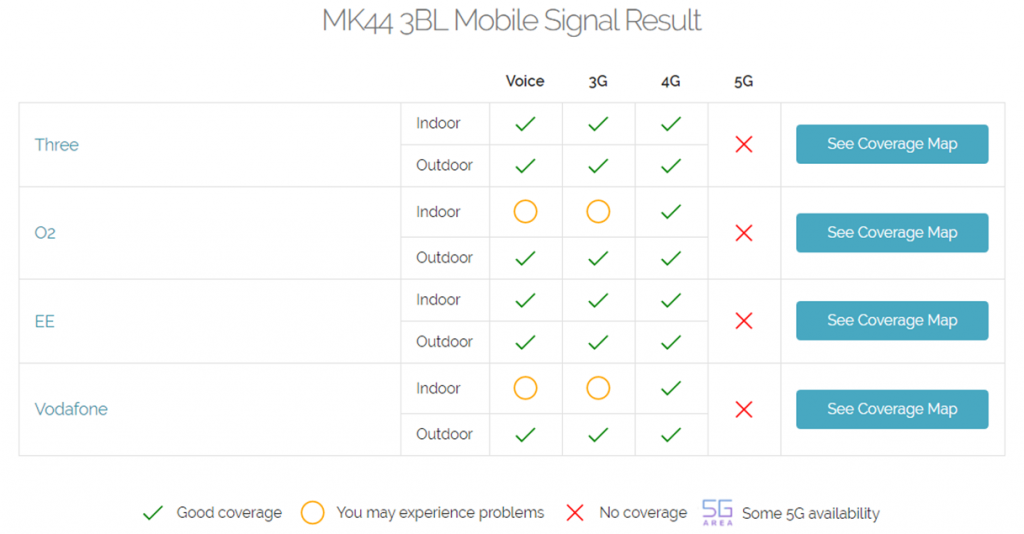 Broadband Internet Coverage MK44 3BL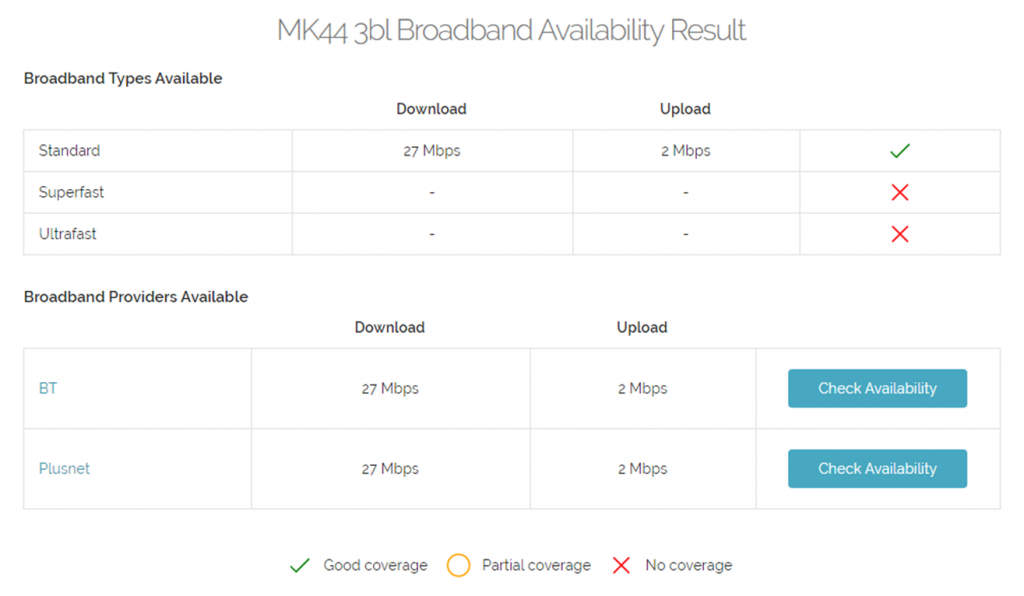 (Screenshot above taken from Signalchecker.co.uk)
Northy Farm Barn, Carlton, Bedfordshire MK43
Mobile Phone Coverage MK43 7LF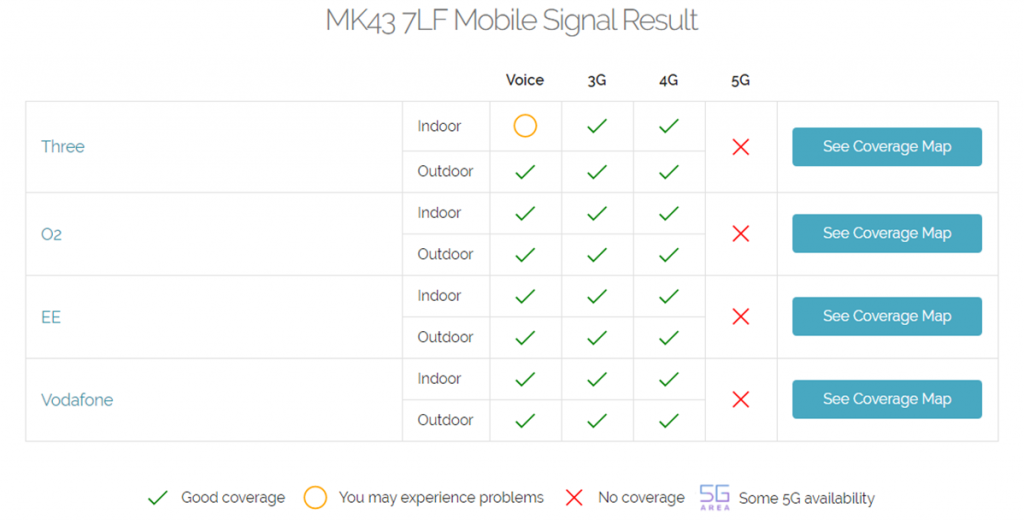 Broadband Internet Coverage MK43 7LF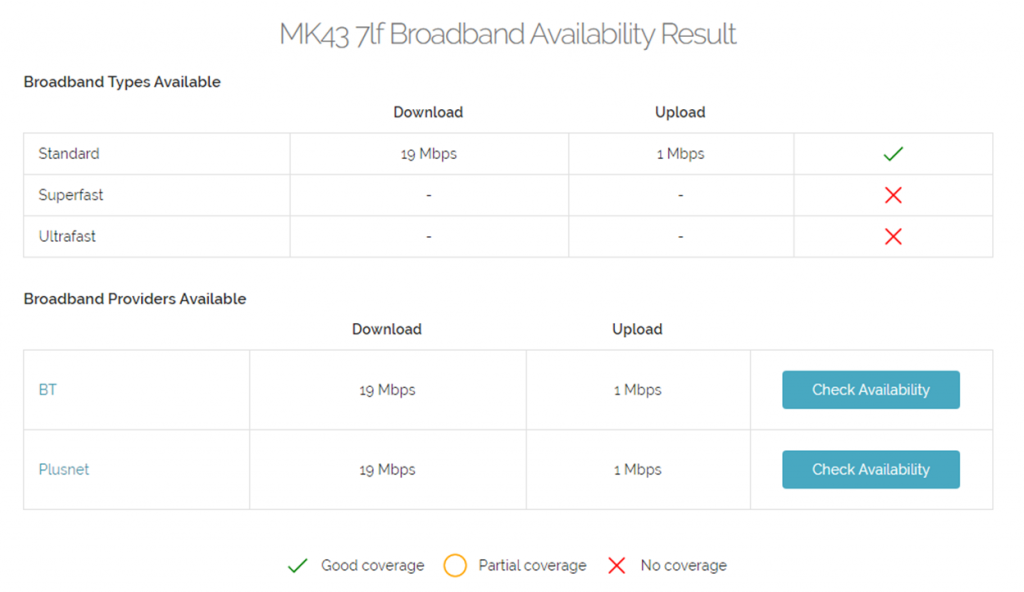 (Screenshot above taken from Signalchecker.co.uk)