What is the Eglu Cube?
The Eglu Cube is the latest large chicken coop within the award-winning range produced by Omlet. And well-imagined user conveniences makes it one of the best-selling large chicken coops around.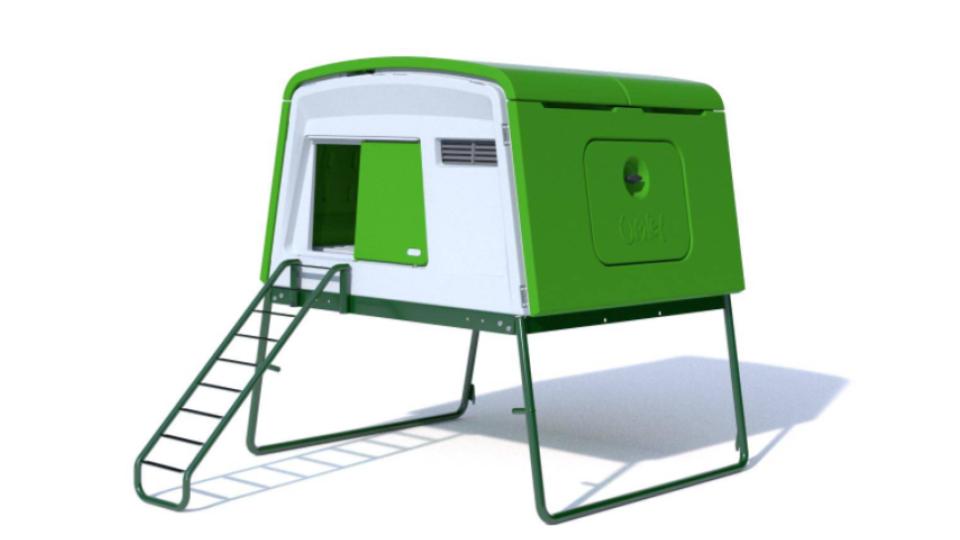 Dubbed by its makers as the "perfect large chicken coop", The Eglu Cube was carefully made for none other than you in mind – the hobby chicken keeper. To keep your chickens happy – with less mess and less stress on your hands.


(Disclosure: Our blog content is reader-supported. If you click on some of our links then we may earn a commission. This helps us offset the cost of our writing team. Thanks for your support!)
What makes the Eglu Cube different to other large chicken coops?
Many of the other large chicken coops are built using out-of-date technology and design. This leads to overly complicated hen keeping routines for use and maintenance. For example, wooden coops are difficult to clean and relocate, whilst other plastic ones are just not built with the smart modern lifestyle benefits of the Eglu Cube.
The Eglu Cube completely does away with those nagging, repetitive demands that other large chicken coops naturally come with. This coop requires no more than wiping surfaces, rather than scrubbing.
The Eglu Cube is easy to assemble and use – plus it's jam-packed with the kind of features that really matter. You'll find that its packaged options are also fairly priced.
The Eglu Cube is designed for one type of targeted audience: hobby chicken keepers (like families and smallholders).
Key features
The Eglu Cube overview
The key features of the Eglu Cube chicken coop can be summed into 7 neat points.  These are covered in detail below.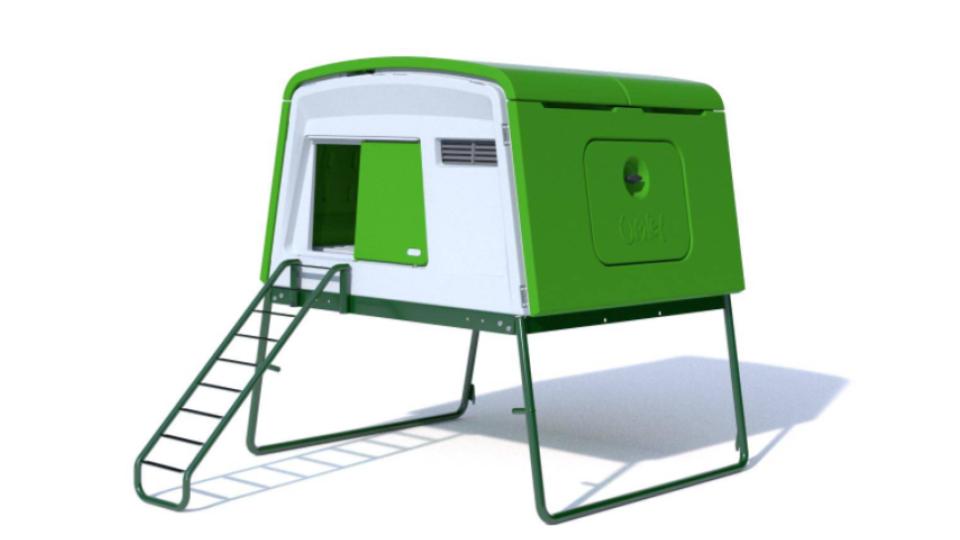 First, here is a quick overview of each feature.
Deep clean in minutes: a couple of minutes with a pressure washer is all you need to completely refresh the Eglu Cube.
Optional Autodoor: an Autodoor does the job of giving your chickens outdoor access and nighttime security – whilst you are away from the flock.
Anti-Predator: a secure construction with an innovative design for keeping your chickens safe from attack.
Easy to move: hard-wearing, practical wheels that get your Eglu Cube from A-to-B with ease.
Eggport: easy access opening for daily egg collection.
Built for the outdoor extremes: equally enjoyed by you and your chicken, whatever the weather.
Zero-maintenance: no need for structural repairs. Made to last and to save you the hassle.
Deep clean in minutes
Almost every large chicken coop out there has a removable droppings tray. The Eglu Cube is one of the first to be designed with high-density polymer that you can pressure wash.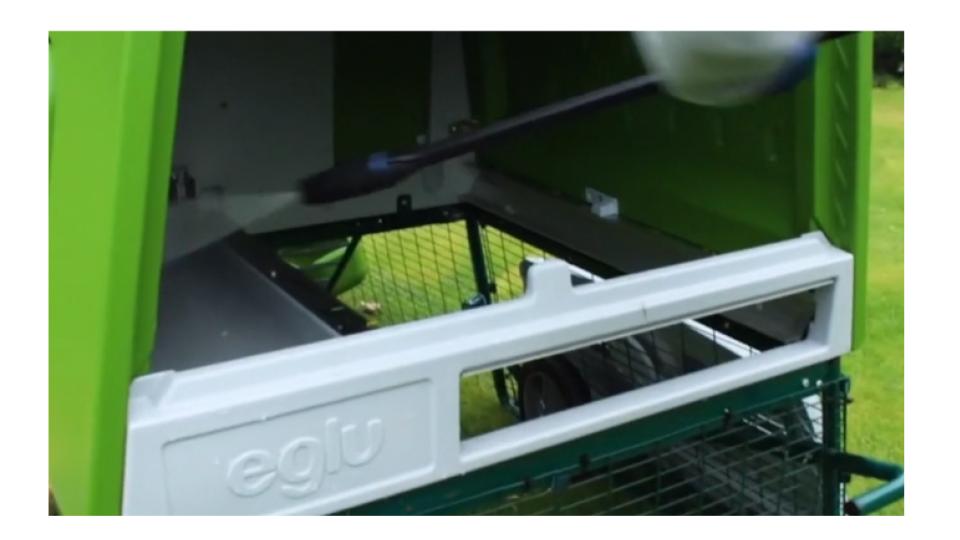 In practical terms, it means your chicken coop can be completely spotless and free to pests in a couple of minutes.
Here is what else you can do to clean it – with little effort:
Droppings tray
It will be of no surprise that the roosting bars are designed so that all chicken dropping fall through. Nor will it be novel to you that droppings are collected by a conveniently placed tray for fast emptying into the compost, for example.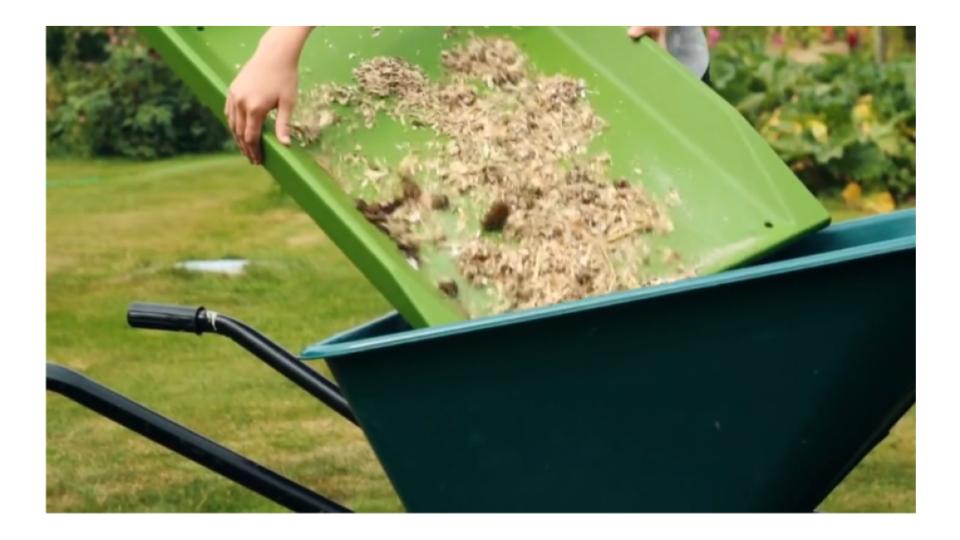 Detachable roosting bars
But what is useful is the fact that the roosting bars are easily detachable. A big cleaning plus.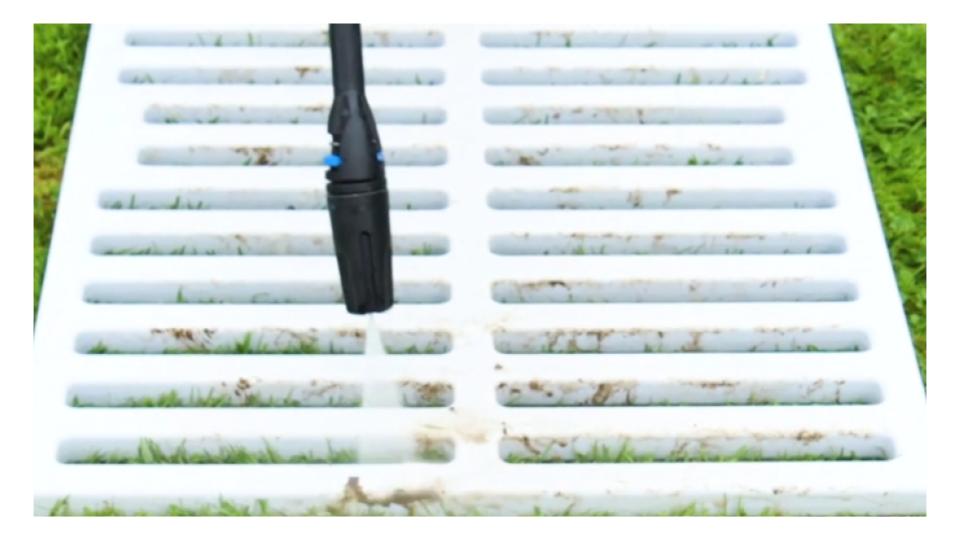 Removable parts
For a truly deep clean that parts of The Eglu Cube are designed as readily removable. Everything including the back panel, nesting box and partition wall can be split apart neatly.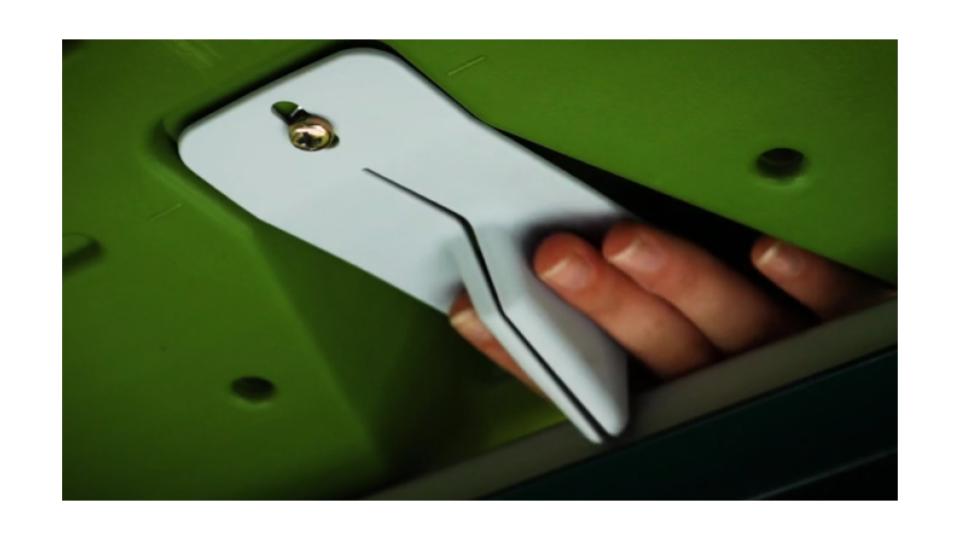 Optional Autodoor
The Eglu Cube's optional Autodoor is a solid advantage.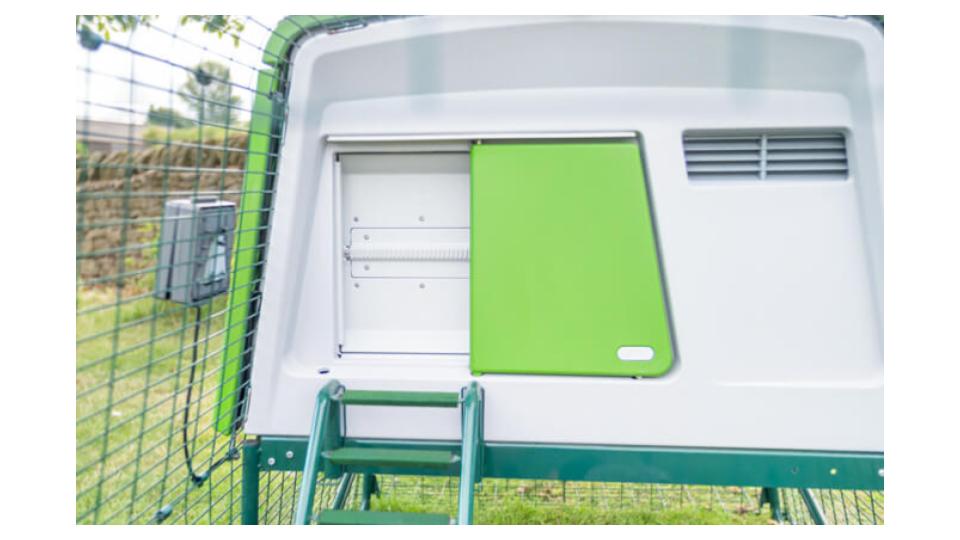 As manufacturers of the Eglu Cube and its complementary Automatic Chicken Coop Door, Omlet has designed both products to be a seamless match.
This means you can set them up together and have them operational without any modifications.
And of course, the real benefit of the Autodoor is that your attendance is no longer required to let your chickens in or out of the coop.
With the Autodoor, opening and closing are triggered by a daylight sensor.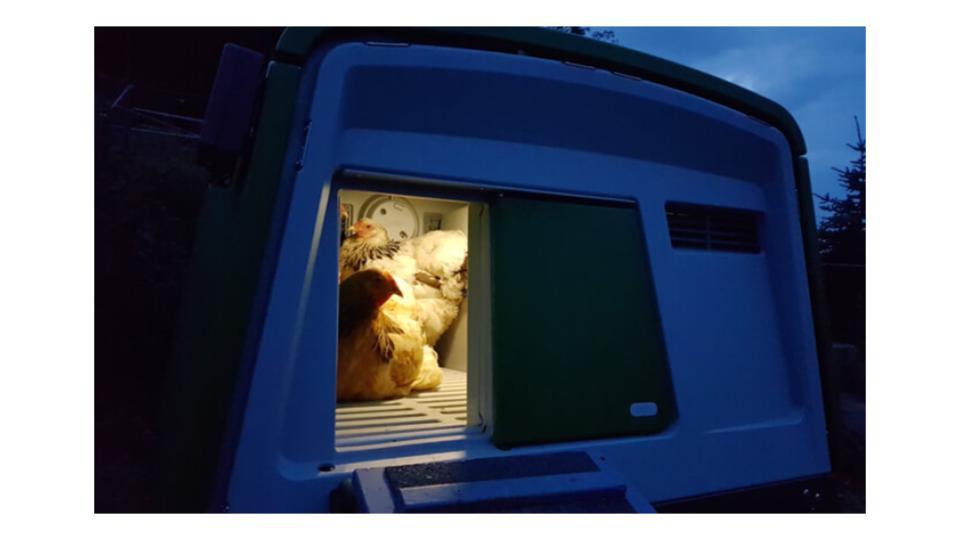 Robustly designed to automatically open and close whilst keeping predators out and operational in all weather.
There's even the option of an internal coop light for helping your chickens find their way in at night.
Anti-Predator
There are three main ways that The Eglu Cube keeps out predators: heavy-duty steel run, anti-tunnel skirt and screw pegs. All of these come with the run inclusive version of the coop.
Heavy-duty steel run
This is an effective alternative to standard chicken wire. In fact, you can't compare it. Its shape can't be bent by the force of an adult hand. (Unlike chick wire.)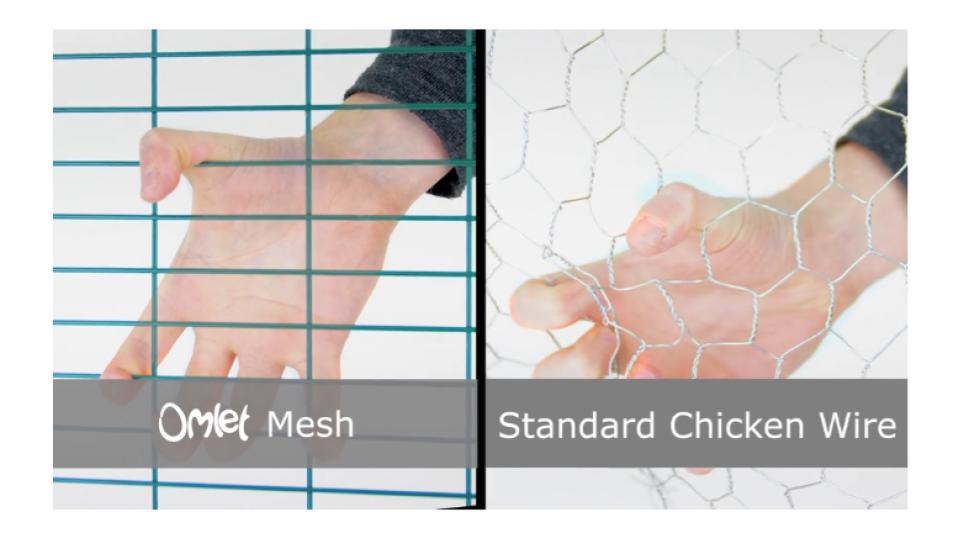 The wires of the Eglu Cube are resistant to cutting with scissors too.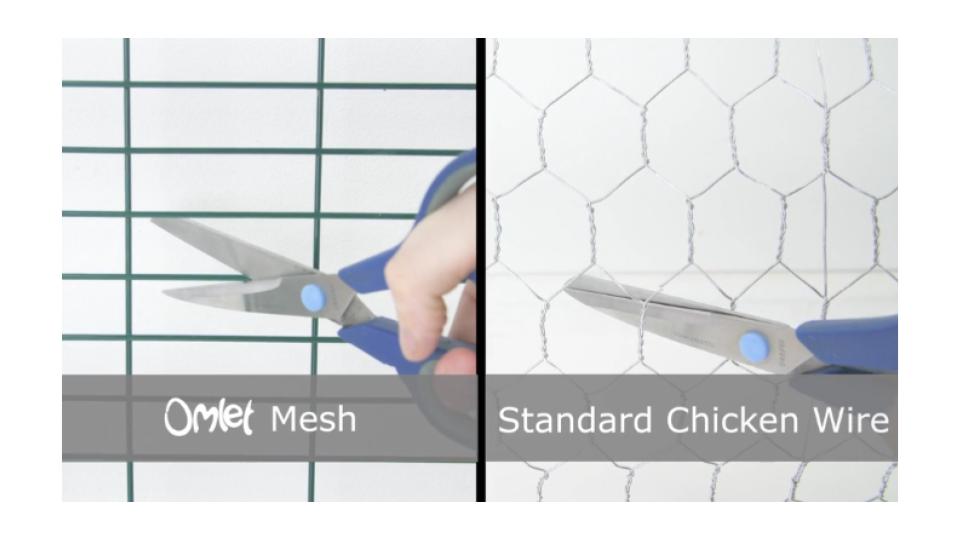 Omlet has gone to great lengths over the last 15 years to thoroughly test their Eglu coop. And have successfully demonstrated its safety and protective features.
Anti-tunnel skirt
The anti-tunnel skirt is a reinforced metal wire fringe that lies flush with the ground. It is a floor level extension of the cage mesh of the run. (So, a skirt in simple terms.) And it's designed to do one thing. To stop dogs, cats or any other animal persuaded to dig an entry under the mesh wall. And it's equally effective on grass, wood chippings or soil.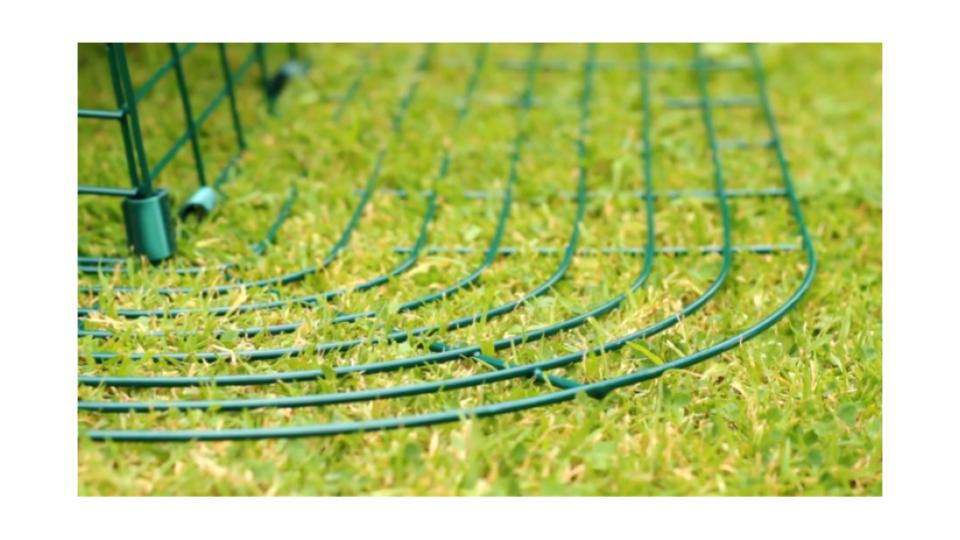 Screw pegs
These screw pegs anchor the Eglu Cube firmly into the ground.  They work equally as well on uneven ground.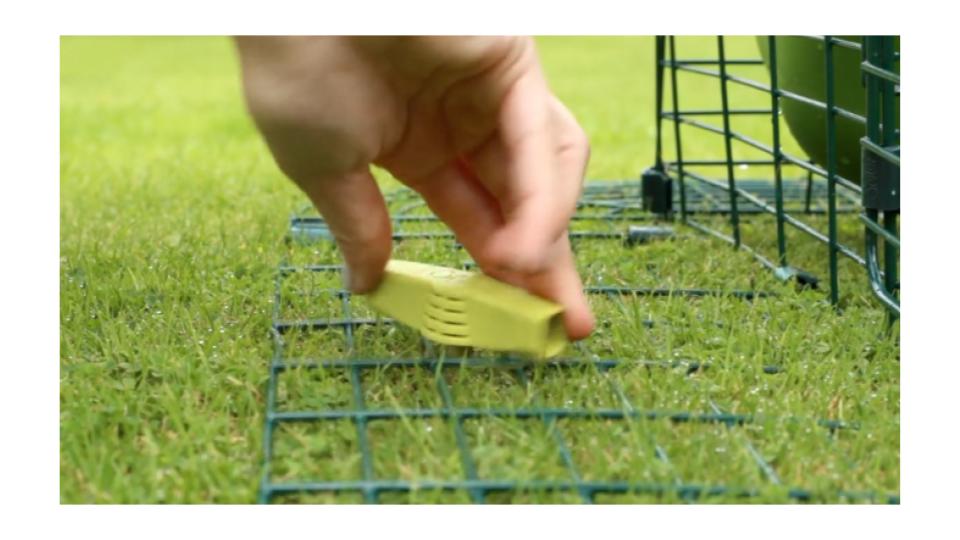 Easy to move
There is an option to buy the Eglu Cube with wheels attached. And as always everything involved with the design of the coop is built to work under many practical environmental conditions. Also, with long-lasting use in mind.
With these extra wheels, the Eglu Cube can be moved with ease by one person alone.
Of course, this is not an essential feature for everyone. But if you want to be able to move your coop at all, this comes in very handy.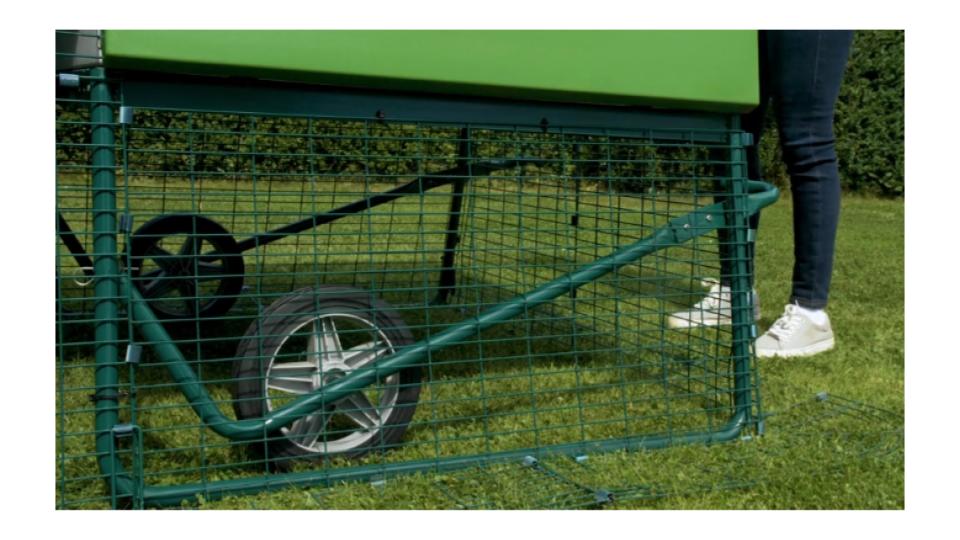 Now, just in case you imagine these wheels to be awkward to use.
Here's a quick demo of how easy they are to get in gear…
Gently push down the foot pedal provided on either side, right side…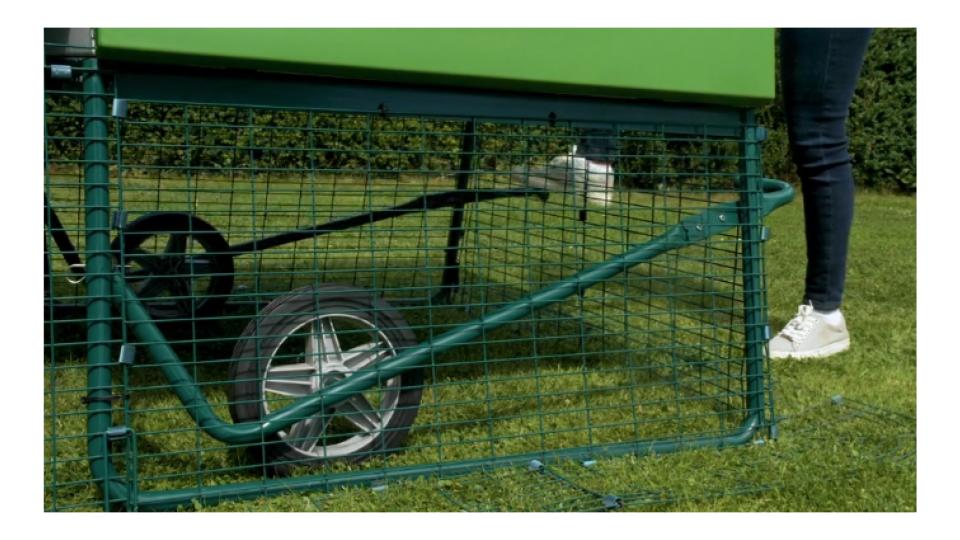 …and left side…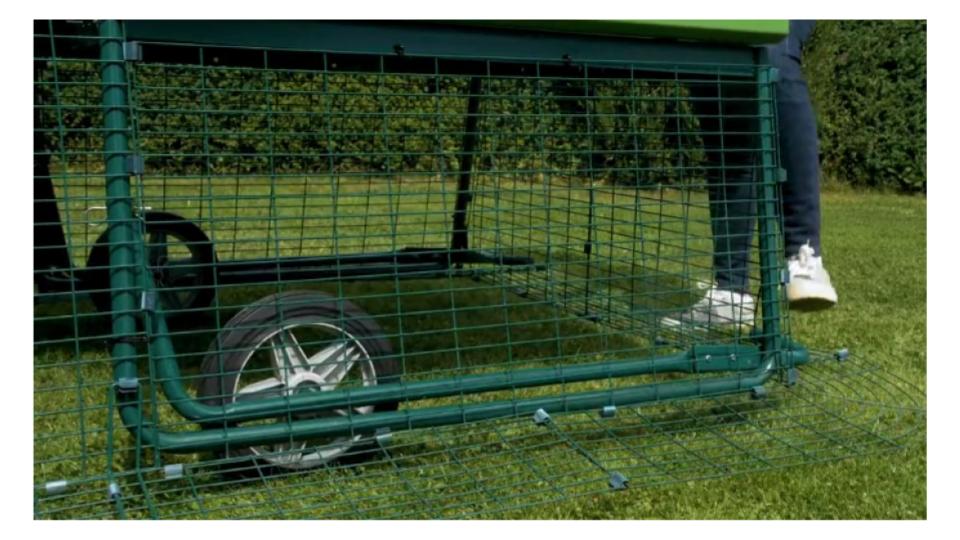 An added measure to steady the ride of your Eglu Cube on wheels are these sturdy handrails.
…and that's it…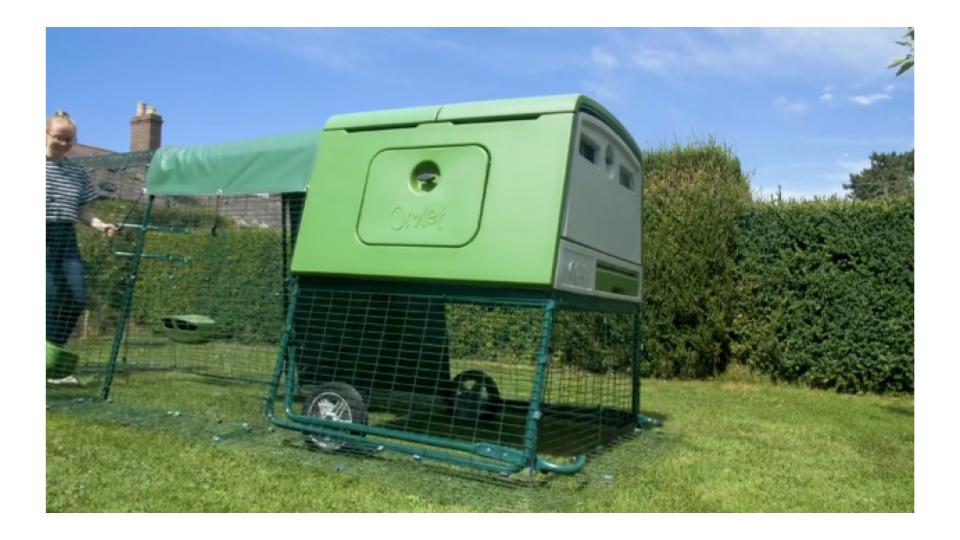 The combination of the wheels and handle clearly make it much easier to move your coop. Especially, if you have a large run attached.
Eggport
The eggport is a nestbox located at the side of the house.
It is a comfortable and discrete spot – for as many as 3 hens to lay in at the same time.
A sliding partition wall means you can access the box for egg collection without opening up the entire coop.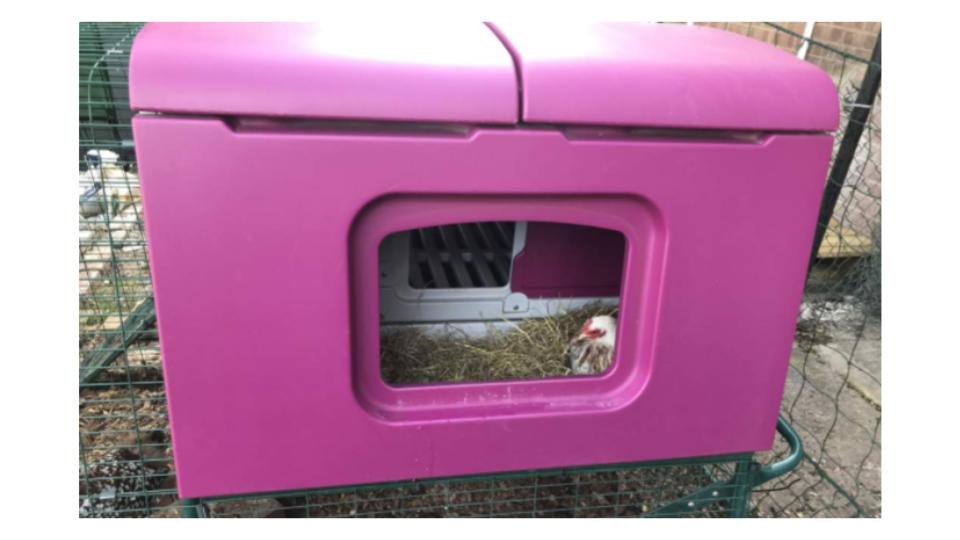 Built for outdoor extremes
The Eglu Cube's twin-walled structure means it's pretty well insulated from the outdoors.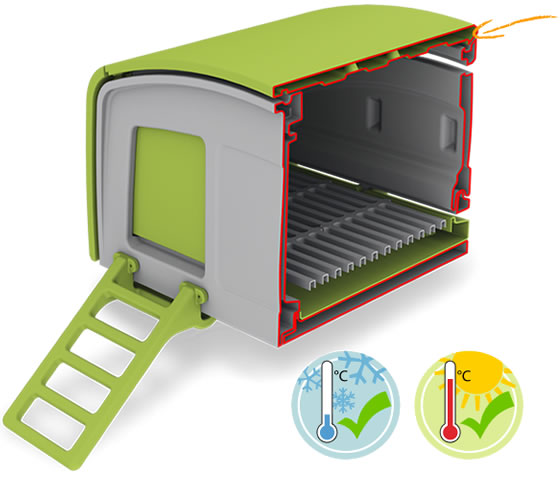 This means in our coldest winter conditions, your flock of hens will still be in comfort.
Ventilation is also well-engineered within the coop too.
So there is ample airflow on hot summer days and nights.
And all of this without being drafty during colder months.
Zero-maintenance
The Eglu Cube assembles easily out of the box. Plus, it's manufactured to come apart just as quickly.
What's more, is that you'll never have a roof repair or repaint as with a wooden coop.
Eglu Cube Dimensions & Specifications
How many chickens can an Eglu Cube hold?
You can keep up to:
10 bantams,
6-8 medium hens
or 4-5 larger breeds, like Buff Orpingtons
How much space do I need to have around the Eglu Cube?
Place the house with at least a meter in front and behind to allow for removal of the slide-out droppings tray and opening the door.
Materials:
House: 100% Recyclable UV Stabilised Polyethylene, Powder-Coated Steel
Run: Double layer fully coated steel weld mesh
Bolts, Screws and Molded Inserts: Stainless Steel
Packaging Dimensions:
Box A House 1of2: 90cm x 33cm x 64cm (18.7kg)
Box B House 2of2: 100cm x 32cm x 65cm (24.2kg)
Box C Frame and Ladder: 98cm x 58cm x 11cm (12.9kg)
Box D Run: 99cm x 58cm x 9.4cm (17.7kg)
Box E Wheels: 95cm x 27cm x 12cm (5kg)
Box F Run Extension: 100cm x 55cm x 7.9cm (10.3kg)
Omlet Service Extras
The Eglu Cube comes with every needed to get you up a running immediately, including:
Drinker
Feeder
Egg boxes
Shade for the run
Omlet has gained a reputation for customer service excellence over the years.
To date, the Eglu Cube has attracted 1,166 verified reviews. The overwhelming majority being 5 stars:

And not all of them are from UK customers either.
And the reviews aren't purely down to the product.
Omlet invests a lot of its labour effort in making sure customers get the very best after-sales support.
Here are some of the highlights:
30-day money-back guarantee
fast delivery
2-year warranty
super secure, online international payment gateway
Learn More
Eglu Cube Demo Video: Helpful intro for getting started quickly with an Eglu Cube, showcasing all the main features mentioned above, plus more.