Railway sleepers have gained popularity as a useful accessory for garden landscaping, raised beds and other land-uses.

Also known as, 'rail-road ties' or 'cross ties' internationally, railway sleepers are traditionally made of wood and laid perpendicularly to rails to maintain the gauge of the track and support the rails.
Vintage railway sleepers were made from pine and also hardwoods, such as oak or mahogany.
The quality of timber as well as the uniform shape and dimensions lend sleepers to endless ingenious landscape and even interior uses.
What are railway sleepers used for around smallholdings?
Gardeners, smallholders and land owners are using railway sleepers to add additional functionality and dimension to their land.
Their robust and uniform structure makes them an ideal choice for:
– decking
– steps
– creation of raised beds
– retaining walls
…and their natural presentation is outdoors ready.  Even ponds and water features can be bordered by these rugged lumps of wood!
So really, where do railway sleepers come from?
Over a million of these are replaced annually in the UK by Network Rail.
As traditional wooden sleepers have been widely replaced with concrete and steel, a surplus of decommissioned sleepers have found their way into the marketplace.
Network Rail has its own site where used railway materials are offered.
Are their any health risks in using previously industrialised materials for smallholding?
The condition of such sleepers varies widely.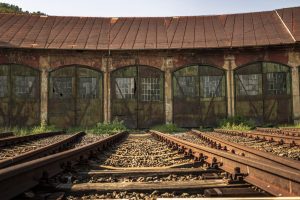 Many have a short lifespan due to rot. Their history, use and weathered presentation still makes used sleepers popular for up-cycling and rustic gardening projects.
Another problem with the use of railway sleepers is the presence of potentially carcinogenic wood preservatives such as coal tar and creosote in used sleepers.
Are there health risks involved in making raised beds with used railway sleepers?
Creosote has been used as a wood preservative for over 150 years.
This chemical can potentially leach into soil or water supply and is an environmental pollutant. Used sleepers therefore are not advisable for gardening uses.
The risk associated with old sleepers is deemed to be serious enough to warrant EU-wide restriction, since 2003.
Creosote treated sleepers can still be legally purchased. However, they may not be used in houses, children's play areas, or where there is frequent skin contact or with food surfaces.
How do these ingrained chemicals transfer from the wood to their environments?
Such chemical industrial finishes and preservatives are known to have a tendency to melt and leach from wood used in garden based projects (particularly in warmer weather) as the sleeper heats up and expands.
This can mean railway sleeper decking or steps can become unsightly very quickly and may require replacement.
What about sleepers which aren't chemically treated? Can those be used in gardens?
Despite the vintage sleeper drawbacks, the UK still enjoys a roaring trade in new and reclaimed hardwood and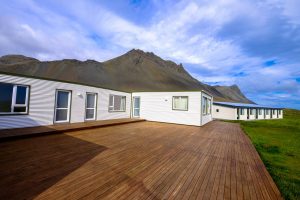 softwood railway sleepers.
Untreated reclaimed sleepers are highly sought after and imported from around the world, in particular, African Azobe railway sleepers reclaimed from Dutch mines.
Australian Jarrah railway sleepers are fine hardwood sleepers which are also sought in particular for robust and long-lasting landscaping such as decking, steps and retaining walls.
They usually are free of preservatives or finishes and are known for their durability. These sleepers, made from tropical hardwoods are at least a few decades old , tough and very heavy .
How easy is it to handle and transport railway sleepers?
Railway sleepers can weigh over 70kg. Moving them is usually a 2 person job.
Although rugged and well weathered, railway sleepers still require some TLC to ensure that they last and remain functional.
Rot, mould, sunlight and frost will eventually break down the wood.
Decomposition always will get the better of exposed wood and so wood finishes  are a prudent choice for increasing longevity of your sleepers.
Modern, specially formulated, consumer grade preservatives for hardwoods and softwoods will vary. Your final approach will come down to preference, when deciding between treated vs untreated sleepers.
However a wide variety of specialist wood preservatives are available for preparing and finishing your sleepers.
Are railway sleepers a good investment?
Sleepers seem to have held their value as a great investment for durable landscaping.
The history and character of this niche reclaimed wood and its strength and functionality means that they should remain desirable for some time yet.